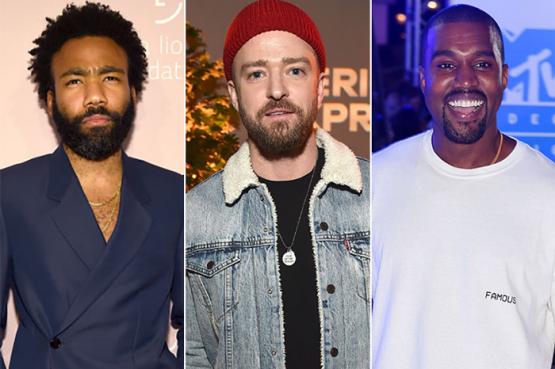 Coachella 2019 Headliners Report
This year's Coachella lineup was notable for its lack of rock headliners, with the Weeknd, Beyoncé, and Eminem topping a bill once dominated by guitar-powered legacy acts.
It was a transformation we could see coming from miles away, and according to a report from a generally reliable music industry trade publication, next year's lineup will continue the trend. HITS Daily Double is reporting that Childish Gambino, Justin Timberlake, and Kanye West will headline the fest in 2019, with Gambino on Friday, Timberlake on Saturday, and Kanye on Sunday.
It's a believable slate of headliners. Donald Glover has said the tour that launched in Atlanta last month, currently postponed due to a foot injury, will be his last as Childish Gambino. He's also supposed to be releasing the final Gambino album before year's end, and he's never been more famous and popular than he is right now, both for his music and his work in TV and film. A Coachella headlining gig would be a fittingly triumphal way to close out the project.
Meanwhile, Timberlake will be wrapping up the promotion behind his lukewarmly received 2018 comeback Man Of The Woods, and like last year's Super Bowl gig, Coachella will be a chance to remind us that he used to release classic songs and is a generally likable song and dance man.
Lastly, Kanye will be coming off one of his most active years ever as a recording artist, having released three albums assuming Yandhi comes out on Black Friday as planned. And he hasn't headlined Coachella since 2011 (alongside Kings Of Leon, Arcade Fire, and the Strokes, to remind you what these lineups used to be like) — which feels like a lifetime ago considering how many twists and turns his career has been through since then.
Plus in 2011 he co-headlined Sunday with the Strokes, so incomprehensibly, if this is true, it will be the first Coachella headlining gig he has all to himself. All three of these artists are capable of putting on incredible performances, but I think it's safe to say none of them are living up to Beychella. Time will tell!