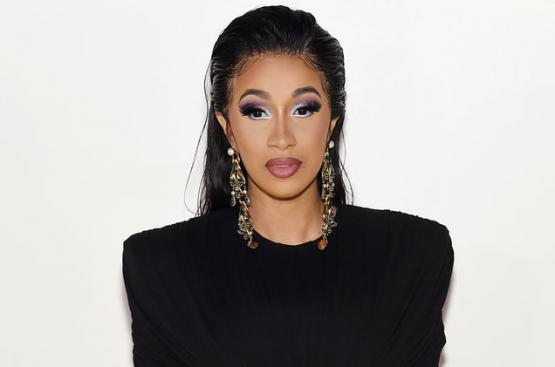 Cardi B Denies Responsibility For Offensive Facebook Post
Cardi B is denying responsibility for an "offensive" post that appeared on her Facebook page over the weekend.
Taking to Twitter on Sunday (Sept. 16), the "Bodak Yellow" rapper revealed that she had no knowledge of the controversial post and attributes it to a former "team member" who had access to her account.
The transphobic meme in question is a cartoon of Rolf from Cartoon Network's "Ed, Edd n Eddy" looking out a window. The caption reads, "I hope nobody see this tr***y leave my house." It was accompanied by laughing emojis and has since been deleted.
https://twitter.com/ThePopHub/status/1041396504576045059
After the post drew criticism, Cardi responded to the backlash on Twitter. "It's come to my attention that there have been offensive posts made on what used to be my Facebook page," she wrote. "For the past year and a half a FORMER team member has been the only one with access to the account."
https://twitter.com/iamcardib/status/1041401463745011713
The Invasion of Privacy rapper previously came under fire for using a transphobic slur. During a Periscope video in January, Cardi claimed she didn't know the term was offensive.
"Like I didn't know that that was a word that you cannot use, especially because my trans friends use it and growing up, my parents never told me that that was a bad word," she said. "You know, there's bad words that your parents teach you that you're not supposed to say. Nobody taught us that. Nobody taught us that in our school."
https://youtu.be/CbPFh0LsPCQ
Cardi's husband Offset was also criticized for his homophobic lyrics on "Boss Life," a collaboration with YFN Lucci. "I do not vibe with queers / I got the heart of a bear / I bust 'em down by the pair," raps the Migos MC.
Cardi defended her husband against the homophobic claims. "I'm not going to let somebody call him 'homophobic' when I know that he's not," she said during the Twitter liveStream. "I'm saying this because I seen him around these…around gays, and he treats them with the same respect he treats everybody. He never acts uncomfortable and he just don't care."