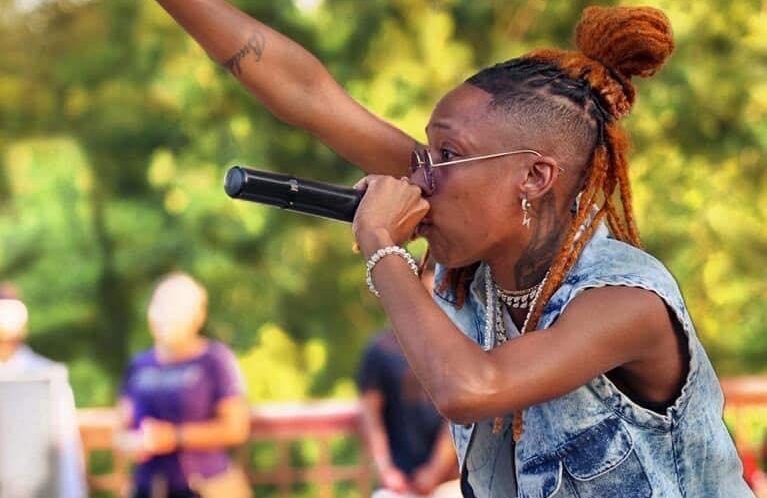 Shamieka "Buddie Pachino" Thomas was born in Columbus, Georgia. She began having an ear for music while growing up around three uncles who played a lot of Rap, Hip Hop and R&B music. She eventually discovered a passion for writing, singing, and dancing. At the age of 12 she started singing, playing the drums and piano in the church choir. Throughout her teens she began rapping in school and became popular for it; so popular to the point where she started performing in talent shows.
The blossoming beginnings of Buddie Pachino
After being introduced to another dope female artist from Columbus, JLady, they became a group under First Family. As a result, they became known as the female rap group, First Ladies. She was the 1st place winner in the rap category of the 2010, 2016, and 2022 Foxie 105 Radio Station Spring Break Talent Shows. In 2016, she won X-Gang's Queen of The Mic in Atlanta. In 2020, after living in Columbus, Ohio for 2 and a half years, making a name for herself in the music scene, she was named in the Top 10 Ohio Artists by Fleet DJs. She was also named one of BreadWeek2K21's "Female Hustler" Award winners in Jacksonville, Florida.
Buddie performed at various venues throughout the country, both solo and as a group artist. She has opened up for artists such as Trina, Slick Em of Pretty Ricky, Dirty Boyz, Prince Santana, V.I.C., Roscoe Dash, Pastor Troy, Boosie Badazz and more. She is also noted for her work in helping to develop the artists Y.N.C.K.. Former teen sensation of Georgia that went on to win the All Star battle on 106 & Park's "Wild Out Wednesday". Additionally, she has organized fundraisers to give back to the community and voter registration drives to get people out to vote. She is currently an independent artist being managed under Tyght Wurk, pushing her latest singles "Fuck Shit" and "For Me". Her new untitled project is in the works, but she has been going hard with performing and promoting.
What's next?
At 32 years old, life has brought Buddie Pachino trials as it does everyone. Nonetheless, she refuses to give up on her dream. She puts her all into every verse she writes and never forgets where she comes from. She has a style that can't be compared and an unmatched live performance. Her future is bright! She continuously proves to be one of the hottest female rappers/artists that anyone has ever presented. Connect with Buddie Pachino and follow her journey below. For now, get familiar with the striving star by pressing play on her most recent release, "Fuck Shit"here at 24Hip-Hop!
Connect With Buddie Pachino On Social Media:
Instagram | Facebook | TikTok | Apple Music | Spotify