Professional boxing has never been more popular in its 130-year history than it is today. The leading names in prizefighting face off to create memorable contests, the sport seemingly in a rush to make up for time lost to the pandemic. And there's more to come from the noble art, with some mouth-watering fixtures already on the calendar for this year.
Boxing has a long and exciting history and has enjoyed much of its journey accompanied by music. The fight and music games have a long-running and close relationship, with everyone from promoters to fighters relying on big-name artists to set the mood. Whether it's a dramatic soundtrack to announce a long-awaited fight or Hip-Hop artists walking a warrior from the changing room to the ring, it's a remarkable bond.
Watch any upcoming bouts listed at the top sportsbook California offers and see for yourself. For as ancient, beautiful, and inspiring as it is, professional boxing wouldn't be nearly as enjoyable without the influence of music. And it's not just the fight game. Did you see the halftime show at the Super Bowl featuring Dr. Dre, Snoop Dogg, and Eminem? If you haven't, we advise doing that as soon as possible. It'll knock your socks off; we're sure of that.
Hype or a tool for victory?
What is there in a good boxing ring walk? Is it all that important, or just something to get the crowd on their feet? We spoke to former professional boxer and current sportsbook writer Frankie Monkhouse who explains the importance of ring-walk music and why many of the greatest modern gladiators turn to Hip-Hop.
Keep reading, and you'll also find our list of famous boxers who used our favorite genre of music to help catapult them to victory and a spot in the history books. By the end of this article, you'll know why boxers use music to lead them into battle and which top fighters rely on Hip-Hop.
At the very least, you'll have a few good tunes to add to your gym playlist. So, let's get cracking, starting with Frankie Monkhouse's experience of choosing a ring-walk song.
Choosing a tune is part of your preparation
When preparing for a fight, you run through several checks in your head. You're happy and confident with how the fight camp went. Your weight is on point, and you have enjoyed some grueling rounds of sparring, miles of roadwork, and countless hours helping promote the fight. You have chosen your fight shorts, protection like a gumshield, and the cup that goes down the shorts to protect the family jewels. Now it's time to sort your soundtrack to victory.
Every fighter will do the miles and train the legs listening to tunes. It's a time to escape from life, concentrate on building fitness, and losing weight. They've already spent weeks and months in the gym and on the road, so there's a good chance they've picked up a few new favorite songs for the playlist. Tracks that inspire, feed confidence, and fuel dreams. Choosing just one piece to accompany the ring walk can be challenging.
What do you want the song to say about you and the fight? Are you after a banger that will get the crowd pumped for your arrival? Are you eager to remain calm and want a song to reflect that? Perhaps you're after something like the bagpipes or some other ancient sound designed to scare the life out of an opponent across the battlefield? Only you'll know the song that will work best with that particular fight.
I usually went with Mr. Brightside from the Killers as it was an emotional track but also instantly recognizable to the crowd. I used Nelly and Kelly for one fight, but that's best forgotten. The Bagpipes and Penny Arcade by Roy Orbison was another. Different battles call for different vibes; the ring walk music helps create that.
If you're looking for an addition to your playlist for those hard cardio sessions, Eminem is my go-to guy and never disappoints.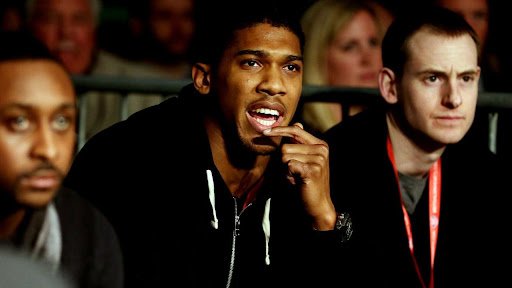 Hard-hitting tracks for big-punching fighters
Now let's look at the biggest names in professional boxing. They use music for many of the same reasons as everyday people; to lift their mood, make them smile, and give them energy. As mentioned, most starfighters fall back on the Hip-Hop genre, which can't be a coincidence. We know it's not.
In this section, we choose some household name boxers who use Hip-Hop tracks in their approach to the only type of ring with four corners.
Anthony Joshua
Big AJ is a former world heavyweight champion who, alongside Tyson Fury, helped relaunch and even reinvent British heavyweight boxing. He knows a thing or two about the sport and has treated us to some exciting ring walks throughout his career.
It isn't easy to choose just one, but we did love his collaboration with UK artist Stormzy and the track Shut Up. Joshua beat Whyte by stoppage in London only after Stormzy set the scene.
Mike Tyson
The Baddest Man on the Planet can play what he likes, right? And Mike Tyson had a few different artists throughout his career, but we remember one more than most, 2 Pac.
2 Pac wrote the song Road To Glory for Iron Mike, which blasted across the arena before Mike's fight with London slugger Frank Bruno. "Throw your hands up, Mr. Bruno, big Mike Tyson 'bout to brutalize that ass" shows the artist had some robust predictions on the fight.
Floyd Mayweather
Self-proclaimed 'The Best Ever,' not everyone loves Floyd Mayweather, but few can argue against his money-making powers or ability to sell a fight to a global audience. And he knows a thing or two about the music industry, holding some exciting relationships with artists.
Ima Boss by Meek Mill ft Rick Ross is the Money Mayweather track that automatically springs to mind with Pretty Boy Mayweather (almost as many nicknames as wins). Mayweather beat the UFC superstar but bang-average boxer Conor McGregor on that occasion.