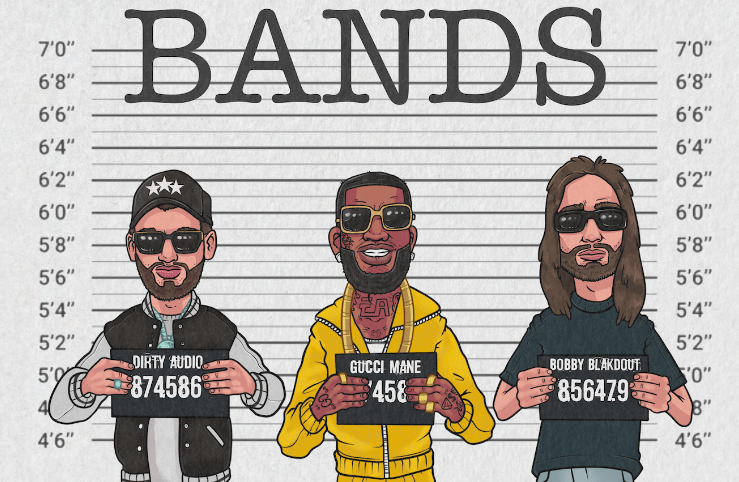 EDM and hip-hop enthusiasts alike are eagerly anticipating the release of the recently teased song "Bands," featuring Gucci Mane, on Blak'd Out's Instagram. The track was also teased on social media by renowned music producers Bobby Blakdout and Dirty Audio.
Dirty Audio is a DJ and music producer from Southern California who has made a name for himself in the electronic music scene. He creates powerful, high-energy tracks that are perfect for dance floors around the world. Dirty Audio's music has been released on major labels such as Monstercat, Mad Decent, and Dim Mak, and he has performed at major festivals including Lollapalooza, EDC, and Coachella. He has also worked with notable producers such as The Chainsmokers, DJ Snake, Steve Aoki, Yellow Claw, and Flosstradamus on hit tracks.Bobby Blakdout is a well-known producer, DJ, and founder of Blak'd Out. Born in New York and raised in Florida, he developed a passion for music at a young age and has become a prominent figure in the industry. Bobby Blakdout produces and charts tracks across multiple genres, including hip-hop, trap, and dubstep. His discography includes collaborations with popular artists like Paul Wall, Project Pat, and other hip-hop legends.
The collaboration between these two talented producers on "Bands" promises to be a musical masterpiece. With Gucci Mane's unique voice and style, the track is sure to be a hit among fans of hip-hop and trap music. Gucci Mane, born Radric Davis, is an Atlanta-based rapper, singer, and songwriter who has been making music since the early 2000s. He has released numerous successful albums, consistently topping the charts.
The anticipation for "Bands" featuring Gucci Mane has been building since its announcement on social media on May 13th. The teaser shared by Blakdout and Dirty Audio showcases an upbeat, trap-infused sound that is destined to be a hit on dance floors and in clubs worldwide.
"Bands" featuring Gucci Mane is sure to be a must-listen for hip-hop and trap music lovers alike. Bobby Blakdout and Dirty Audio's collaboration promises to be a hit, showcasing their impressive production skills along with Gucci Mane's unique voice and style.
Presave at https://hypeddit.com/bands