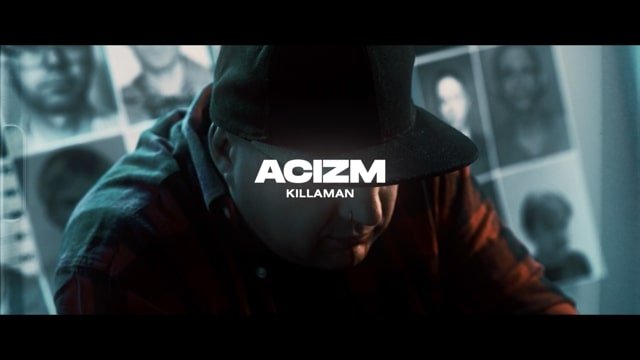 Acizm returns with his signature thought-provoking lyrics and unique flows to deliver 'KILLAMAN', the first of an exhilarating three part audio-visual journey. This release is a prequel to Acizm's previous video 'MEDICATED', a track exploring the dark depths of big pharma. The intense visuals offered in 'MEDICATED' wrap up by alluding to this upcoming video with bloody images and the haunting black eyes of this 'KILLAMAN'. The brand-new track opens us up to a whole new world of darkness and macabre, delving deeper into the psychological depths of this character.
In the rapper's own words: "KILLAMAN is the story of a crazy man struggling to survive in society and whose fascination with serial killers and their crimes begins to unravel him". With the brilliant production skills of C-Lance and videography from Matt Brida (Brida Films), you can expect a top-quality project alongside Acizm's gripping storytelling.
In this new track KILLAMAN, we were blown away from his performance on this track. With his fast pace flow with a bouncy instrumental in the background, the impact of his lyrics was what attracted us to not only this song but who he is as an artist.
Intricate rhymes, choppy flows and intellectual word play are just some of the elements that make up Australian Hip Hop artist Acizm. Unsatisfied by anything less than perfect, this rapper constantly aims to deliver the best lyricism and master his flows at each show. He has found an ideal match in the highly in demand producer C-Lance, who works to accentuate the rapper's verses with impactful and addictive Hip Hop beats. Acizm's own skills and dedication have led to collaborations with esteemed rap figures such as B-Real from Cypress Hill and Boston Hip Hop veteran Slaine.
Over the years, Acizm has earned the admiration of many around him, with his raw talent and insatiable hunger impressing almost 3 thousand monthly listeners on Spotify. Acizm is clearly committed to exciting his fanbase with this three part "mini-film", promising a wildly entertaining journey at each turn. Be sure to stay tuned for the next installments, you won't want to miss them.