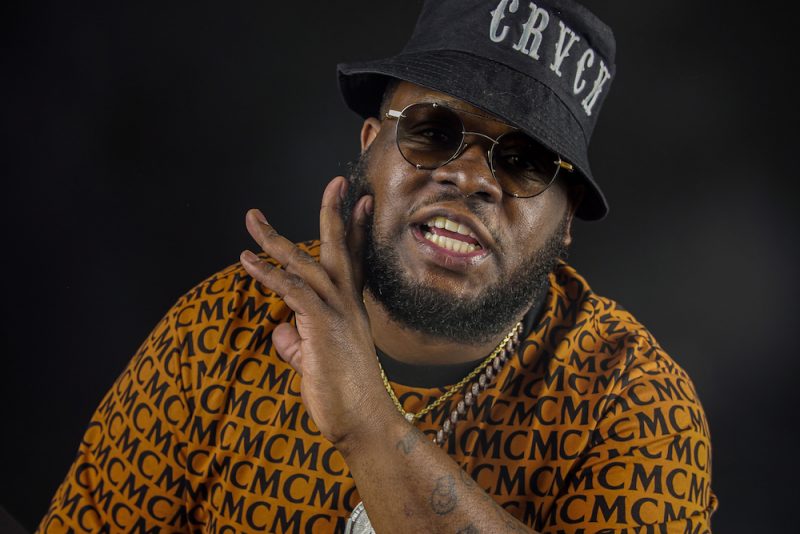 Bankroll Bigg's album, Two Words One Finger, is streaming now!
Bankroll Bigg, an Atlanta native, is gearing up for another big year with his latest record, Two Words One Finger. His latest album is how it sounds, as it seeps that fuck you temper. From money, woman, and drugs to just showing off, Bankroll Bigg is a certified boss with his latest album. As he pours up and talks his shit, it is evident he is "humble, hungry, experienced," and ready for action, as he showcases his versatility.
The eight-track project, Two Words One Finger, is filled with tenacity and heart as it details Bankroll Bigg's city and who he is. As Bankroll Bigg describes the album as "my city, my culture, my swag."
Bankroll Bigg showcases his versatility with his lyricism in his introduction to the album with his song, "Double Cup," as he goes on about life's bullshit, moving money, and staying focused and in his lane, Bankroll leaves nothing behind, with his cutthroat lyricism and his impeccable flow.  He couldn't have picked a better anthem to start the album. Bankroll Bigg's album is "passionate," as he gives his all, as it is his perception of what [he] do[es]  and how [he] feels in [his] own city."
With standout tracks like his other anthem, "I Know It," Bankroll delivers the heat, showcasing his flawless, crisp, and bopping flow. The song grabs your attention as he raps about his crew, his women, and not losing.  Bankroll Bigg does not disappoint. Another standout track from, Two Words One Finger is the track "In Love Wit The Money," which illustrates Bankroll Bigg's versatility and adaptability as a rapper and artist.
With significant success from his last single, "Trill Love," featuring V Bozeman, Bankroll Bigg is sure to land in your next playlist, as he showcases his aptitude and versatility for music. From a conscious streamline, dropping bar after bar to a soulful and sensual song like "Trill Love," Bankroll big can do it all.
Be sure to check out BankRoll Bigg's Via social Media @bankroll_bigg on Instagram, as Bankroll is expecting to drop another project soon, which he explains as an "audiobook of me." Also, check out the dope visual for "Ain't Going Broke" to continue to vibe to the project.
Two Words One Finger, is streaming now below.