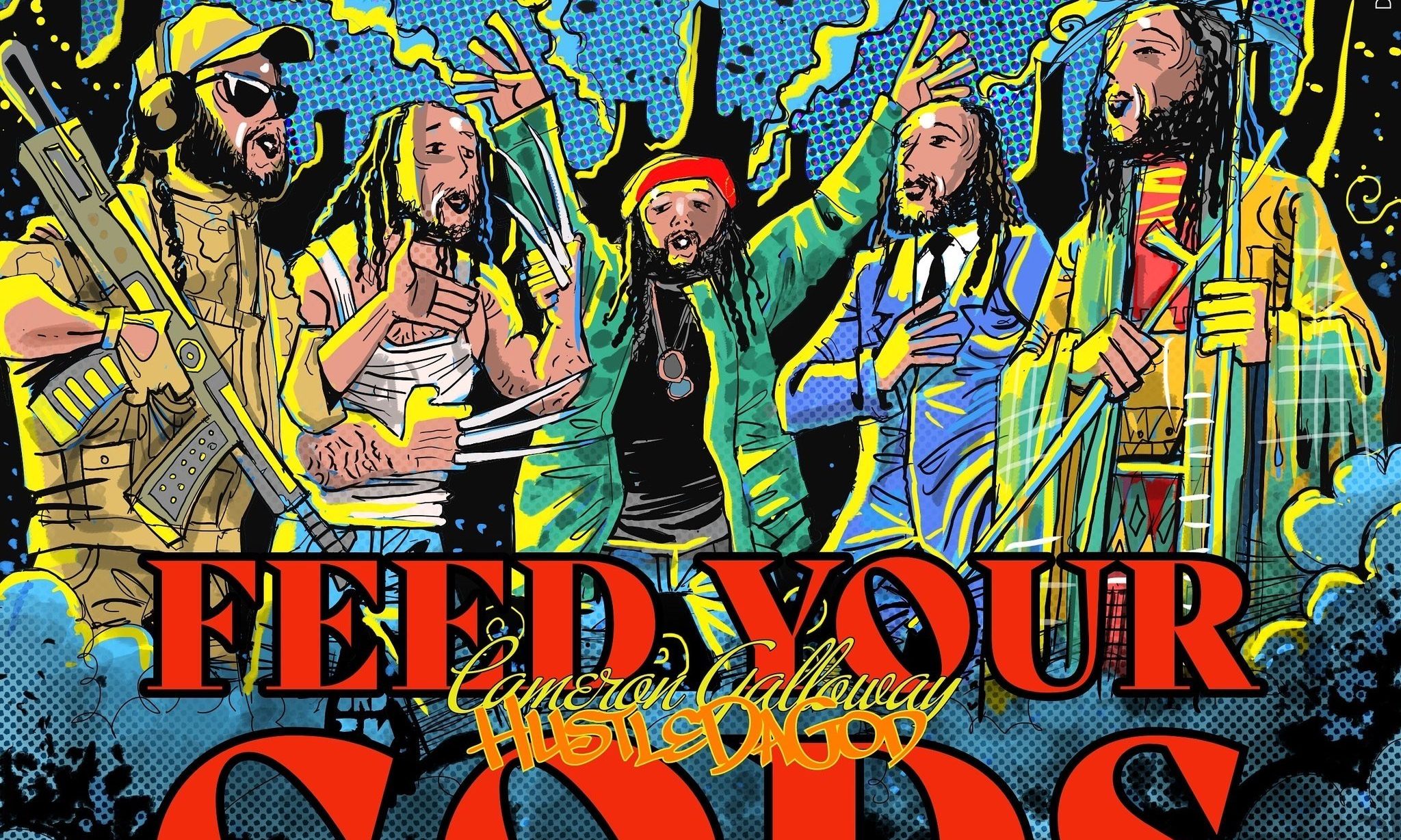 Q What is your name/stage name?
A "My name is Cameron Galloway. My stage name used to be Charlie Hustle; it was given to me by my mentor Don Bricks (RIP) after he heard me in a freestyle battle. HustleDaGod was given to me by a college friend because of my affinity to the Supreme Mathematics & Alphabet of The Nation of Gods & Earths. I chose to use my own name as opposed to Charlie Hustle because I didn't wanna feel like I was playing a character, I want to really be me 100% in my music. I chose to keep HustleDaGod because it's me. I Hustle, I grind it out, I get it done. I make something outta nothing. I'm DaGod. So it's Cameron Galloway (HustleDaGod)"
Q Where are you from?
A "I'm originally from Norfolk, VA. I grew up in Goshen, NC. Over the course of my life I've lived in 7 states & traveled to about 30. I'm a bit of a Journeyman lol currently, I'm in Washington DC"
Q What do you do?
A "I'm an EMCEE. I also do graphic design, web design, & I oversee the Art Direction of Ophiuchus Records. I also ghostwrite."
Q Ghostwrite? For who?
A "shhh, I'll never tell. Lol You know them tho. Listen to my music & listen to your favorites…you'll have to figure that one out tho. "
Q How long have you been making music?
A "I very been making music for 17 years. I've had opportunities to travel all over the country to perform during this time & also have had meetings & offers from some of the biggest labels."
Q Who's your biggest  inspiration?
A "My biggest inspiration in Hip-Hop is NaS. I love his lyrical ability & overall creativity. His integrity is unmatched; in my opinion. Personally, I'd say my biggest inspirations are my parents. They are the definition of 'getting it out the mud' they're fearless in their approach to life & instilled that attitude in me at a very early age. They also taught me to question everything & to dig for information. My children inspire me to stay creative & be authentic in every interaction. I find inspiration in almost everything to be honest."
Q What genre of music do you create?
A "I make God-Hop. Conscious, street music. Not preachy, I'm no saint & I will never pretend to be. It's inspirational & real. An homage to my favorite type of music. It's gritty & soulful production & no holds barred lyricism. I tell stories about a life that "mainstream" rap glorifies, from a true perspective. The ups & downs…the tragedy & triumph. My goal is to inspire people in these situations that there is a way out WITHOUT compromising your integrity."
Q What are some features you have?
A "I've worked with The Late Great Don Bricks(my big homie & mentor). I've also done countless collaborations with Woodcity Records. I've also worked with Yung D' The Pilot, & $$$EZ$$$ from Virginia & Backwood Sweetie from Maryland. I have an album with my brother Doc Bricks titled The First 48(done in 48 hrs). As a part of The Black Lotus Society, I did The Legend of The Black Lotus. My brother, Drew Shamir. My partner in rhyme Sage Walker. I have an album with Producer/MC CG3, as well as some R&B features floating around out there. I love to collaborate. As long as it works musically. I'm usually fast about getting verses back."
Q What are some features you want to get?
A "I'd love to work with 6lack, Sa-Roc, SZA, DJ Premier, The Alchemist, WestSide Gunn, Jay Electronica, NaS, Buju Banton, Ab-Soul, Stove God, Styles P, Cole, Kendrick, D'Angelo, Pete Rock, & countless others. WU. SCARFACE. BEANS. see….the list is literally endless. Max B."
Q Who's one person, dead or alive, that you'd want to work with?
A "Alive, Sade. She's amazing, timeless, emotional, soulful music. I'm a lifelong fan. She's amazing.
Dead, ODB. I'm such a fan. Ason Unique, no father to his style. I feel like we'd make some dope East Coast Urban Indian shit."
Q Are you signed to a label?
A "Ophiuchus Records. I signed myself"
Q Do you want a record deal, a distribution deal, or none?
A "Potentially, if the splits are right. It'd have to be a partnership."
Q What are you currently working on?
A "I'm currently working on my next solo album GOD IS GRACIOUS entirely produced by Prolific Beatz. As well as BlackGod with Sage Walker. And some other big things in terms of film."
Q Film? Acting?
A "Potentially, I'd like to try it. For now, voice work & writing. In the future, I'm going to make movies. Live-action, anime, the whole thing. I'm working on a couple soundtracks as well."
Q What is your latest release?
A "I was featured in Furious Stylez series The Basement recently. It was a 3 song ep. I'm honored to be a part of such an illustrious series & am looking forward to collaborating with him more in the future. Before that, I released FEEDYOURGODS, my last solo album it featured Sage Walker & T.I.M.E. from The Black Lotus Society & $$$EZ$$$."
Q When is your next release?
A "BlackGod with Sage Walker. August 22nd. It's been a long time coming. We might release the original from 2013 also."
Q Artistically, how would you describe yourself?
A "I would say I'm NaS, Raekwon, JAY-Z, Method Man & W$G, but from the South. I'm Scarface, Jay Electronica, Andre3000 & Ab-Soul but from the East Coast. Being from VA & NC, we always had love for southern Hip-Hop, West Coast Hip-Hop & New York Hip-Hop equally. I draw from all of these elements when I'm creating. I love vivid storytelling & passion fueled delivery. I'm gritty & allegorical, with a smooth voice. & I'm a feature killer like BIGGIE. I study the GOATS. I make dope shit."
Social links
Instagram: www.Instagram.com/hustledagod
Twitter: www.Twitter.com/hustledagod
Facebook: www.facebook.com/hustledagod13
YouTube: https://youtube.com/user/hustledagod
Music links
OxBLS.com
Tidal: https://tidal.com/artist/15710307
Spotify: https://open.spotify.com/artist/4FP8HiD1tmUYMQxCV8YpLp?si=MLTTZC3PScKopJQvtBSByA&utm_source=copy-link
Apple Music: https://music.apple.com/us/artist/cameron-galloway/1466971305