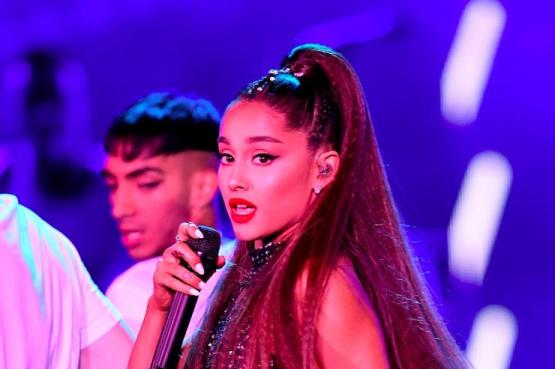 Ariana Grande Cracks Kanye Joke In Praise Of Pete Davidson
Davidson put MAGA-hat Kanye in check on this week's SNL.
Many viewers and critics called Pete Davidson's Weekend Update address of Kanye West's controversial SNL speech the highlight of last week's episode, and Davidson's fiancée, Ariana Grande, seems to agree.
The singer shared support for Davidson on her Instagram story, cracking a Kanye joke that may or may not have been a subtle shot at the rapper in her message. "I love you like Kanye loves Kanye," she wrote, riffing on The Life Of Pablo track, "I Love Kanye."
https://www.instagram.com/p/BontqkGBXje/?utm_source=ig_embed
Davidson's message took aim at Kanye's support of Trump and decision to wear a MAGA hat on stage, as well as his inaccurate comments about slavery. "What Kanye said after we went off the air last week was one of the worst, most awkward things I've seen here, and I've seen Chevy Chase speak to an intern. Do you know how wrong about politics you have to be for me to notice?" he joked, before suggesting that as someone who has dealt with mental health issues in the past, he feels that they should not be used as an excuse for questionable behavior. "There's no shame in the medicine game. I'm on 'em, it's great," he said. "Being mentally ill is not an excuse to act like a jackass."
The comment from Grande is just one of many public displays of affection we've seen from her and Pete since they announced their engagement earlier this year. Grande's new album Sweetener even has a song named after Davidson.
Davidson is a longtime hip-hop head. Though he is a fan of Kanye's music, he's been critical of the rapper in the past. "We as a country need to agree that if it isn't over a sick beat, we don't want to listen to anything Kanye West has to say ever again," he said in 2016.