Introduction:
In the world of music, artists often explore innovative ways to captivate their audience and leave an indelible mark on the industry. However, when boundaries are pushed, opinions tend to differ. Recently, rapper Apollo the Boss took a public stance, expressing his disapproval of singer Miguel's unique stage performance, where he performed with hooks on his back. Apollo argues that Miguel's theatrics have gone too far and believes the singer could have achieved the same impact through a simpler approach, such as a charity event. Let's delve into this controversy and examine the perspectives surrounding the issue.
Miguel's Theatrics: A Bold Expression or Excessive Showmanship?
Miguel, renowned for his soulful voice and daring performances, has consistently pushed the boundaries of creativity throughout his career. His recent stage act, featuring hooks attached to his back during live performances, has left audiences divided. Supporters argue that Miguel's use of props adds a unique visual element to his music, enhancing his ability to connect with listeners on a deeper emotional level. They view it as a bold expression of vulnerability and artistic freedom.
Apollo the Boss's Critique: Crossing the Line?
On the other hand, Apollo the Boss, known for his straightforward lyricism and no-nonsense approach, has openly criticized Miguel's performance choice. In a series of interviews and social media posts, Apollo suggests that Miguel's use of hooks is excessive and unnecessary. He asserts that the singer is crying out for attention in the wrong way and questions the authenticity of this seemingly attention-seeking behavior. Apollo believes that Miguel could have achieved a similar impact by organizing a charity event or using his platform to address pressing social issues.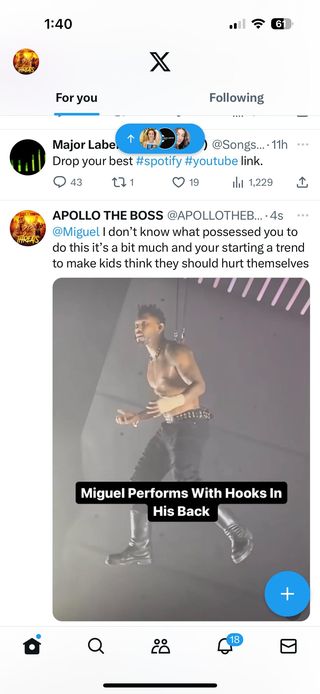 The Deeper Meaning: Artistic Expression vs. Authenticity
Beyond the surface-level controversy, this debate raises questions about the balance between artistic expression and authenticity. Both Miguel and Apollo are artists with their unique styles, and their clash of opinions highlights the subjective nature of art and performance. While Miguel's theatrical approach may resonate with some fans, others may find it contrived and lacking substance. Apollo's critique stems from a desire to see artists use their platform responsibly and make a meaningful impact on society.
The Role of Art in Society: Provocation or Responsible Engagement?
Artists have long been recognized as society's mirrors and catalysts for change. While Miguel's performance may be seen as provocative or attention-seeking by some, others argue that artists have the right to push boundaries and challenge societal norms. However, it is essential for artists to strike a balance between artistic expression and responsible engagement, ensuring that their actions align with their intentions.
Conclusion:
The controversy surrounding Miguel's use of hooks during his performances has ignited discussions about artistic expression, authenticity, and the role of artists in society. While some applaud Miguel's bold approach, others, like Apollo the Boss, question the excessive theatrics. As the music industry continues to evolve, it is crucial to appreciate diverse artistic perspectives while also encouraging artists to make meaningful contributions to the world around them. Ultimately, the impact and legacy of an artist should be judged not only by their creativity but also by the positive change they inspire.