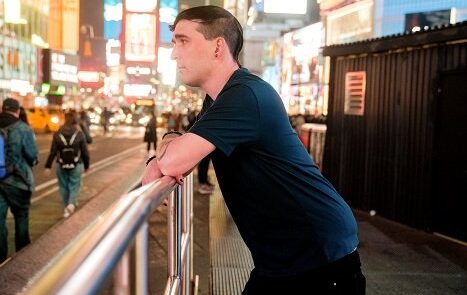 Kevin Meyer is an American music artist who has performed with numerous MTV and Billboard artists such as Trace Cyrus, Hawthorne Heights, Yellowcard, Mod Sun, Taking Back Sunday, All Time Low, and Machine Gun Kelly. His debut EP, Take Me Home, was produced and mixed by Mario Salvati, who has worked with Blondie, Debbie Gibson, and Bob Dylan. Kevin gained popularity among fans during his headlining solo tours but he had also joined All Time Low, Taking Back Sunday, Machine Gun Kelly, Yellowcard, Mod Sun, G Eazy, and Senses Fail for certain east coast shows in the summer of 2012's Vans Warped Tour.
1.) It's so nice to have you here! Hey, so the world knows , tell them your name and the city you rep?"
It's so nice to have you here! Hey, so the world knows , tell them your name and the city you rep?" Kevin Meyer (Long Island, NY).
2.) Tell us about your background getting to where you are today?
Tell us about your background getting to where you are today? Like most musicians who are in bands that don't work out, they do not want to leave the music scene for good. That's what happened to me after disbanding with friends senior year of high school and I foresaw it happening the year prior thus I created a solo side project under my name, Kevin Meyer, on music social network site MySpace in 2006. After launching several demos for free which were going to end up being my debut album I started to gain a following on the social site. In 2008 I attended IAR in Union Square, New York, NY. There i met professor Mario Salvati, who ended up becoming my Producer and Mixer for my official debut EP titled Take Me Home. Salvati worked alongside some of the greats like Blondie, Debbie Gibson, Bob Dylam, and the Soundtracks for the Beverly Hills Cops I and II. He really helped launch my official music career. Thus, I started to tour bars and coffee houses. even open mic nights, If i could play there, then I did. My discogropny includes 4 EPS and 1 Re-mix between 2009-2019. I opened and performed with numbered big names and even was a part of the Vans Warped Tour in 2012 with All Time Low, New Found Glory, Machine Gun Kelly, T Mills, Mod Sun, TBS, and G-Eazy. In 2017 through 2019 I suffered with great mental health and suicidal tendencies leading up to a suicide attempt in 2020 that nearly ended my career but especially my life. It's been over 3 years and I find rap a new genre I have adapted into well as a musician a great way to express and go into details with longer verses. I have written a bunch of songs and have gone public about a comeback EP and more Hip-Hop influenced full length double albums in the works.
3.) Where are you from? What's your real name?
Born in Queens, NY and am a Valley Stream Native who lives in western Nassau County, NY. I love New York it's my youth, roots, and future. My real name is Kevin Charles Meyer but I normally do not go into details since I just prefer Kevin Meyer.
4.) How did you get into music?
Parents bought me a drum set when I was lent a squire jazz bass from elementary school music teacher. I took lessons and practiced daily, and after drums, came a new bass my own Ibanze, then a Yamaha 6 String and Keyboard Casio I believe. Music became something like heroine or crack because I was hooked hard!
5.) What is the most challenging thing you have overcome in your life?
I was almost killed in a car accident in 2010, scary shit, they had to use the jaws of life and I woke up in a hospital bed freaking out. Also, let's not mention permanent back damage and that fact I live off Ibprophine, Pain Pills, Muscle Relaxers, and Nerve Pain Meds. Besides that defiantly my suicide attempt in 2020.
6.) Are you currently signed or independent?
I was always Independent and still am, although I am signed as a composer and music artist to and (ASCAP) publishing agency which I came up with the name called Take Off Your Bra Publishing.
7.) Who inspires you the most musically?
Blink 182 Greenday and Linkin Park were my roots. Also, like Kid Rock and Limb Bizkit. Eventually, I joined the whole Pop. Punk Emo Scene with Dashboard Confessional and Good Charlotte being 2 big influences. Also, Andre McMahon then as Jacks Mannequin. Also I enjoyed 50 Cent, Mase, and Diddy. Recently, I would say I am into the whole BlackBear, MGK, Mod Sun, Yung BLud, Yellowolf scene which still has a very mixed sound. So idk I am a musician there is nothing that turns me off except Opera.
8.) What do you want people to take away after listening to your music?
The themes I am putting out per release, usually my writing stems from personal experiences therefore most will find it easy to relate to and if not check out one of the similar bands or artists.
9.) What is your greatest achievement as a musician?
Progress, very fortunate my credits have build up over the year and didn't have to bad of dry spills.
10.) Do you produce your own music?
If not, who do you work with? I am the song-writer it starts with me, but hell no I enjoy Producers ripping my songs apart even if it is something simple but complex as well and makes it a better song. I have worked with Mario Salvati, Steven Haigler, Mike Watts, and now I'm schedule to work with Public Enemies mix engineer Mike Bona at The Mix Palace. He is known for Hip-Hop, he worked with so many artist such as Eminem, Busta Rhymes, B.I.G. Notorious, Nas, and some more.
11.) Who is one artist you wish you could work with?
Travis Barker
12.) Tell us about any new music you have coming out?
When is coming out? What is it about? Been writing about a lot of emotions that are part of the build up to one trying to take their own life. I been writing and writing some more for like a year straight. Then I started to realize I could write better so I been doing that and will continue to. As far as releases I'm doing press and promo about my comeback releases "Detached" the EP and "To Hell ANd Back" my debut full length album, actually a double album.
13.) What does a day inside your shoes look like?
Managing my music career and a suicide prevention company I founded and went public with April 15th of this year at www.sppbkm.com check it out. We are working on building chatrooms and blogs that interact with Facebook and Instagram so it is definitely going to be appealing for the mental health and suicide prevention community and raise awareness about advocacy.
14.) How can fans connect with you?
Through social media, it's all available on my website as well www.kevinmeyermusic.com/ but here it is for any of you who prefer direct social media links my IG @officialkevinmeyer FB @kevinmeyerofficial and Twitter @realkevinmeyer