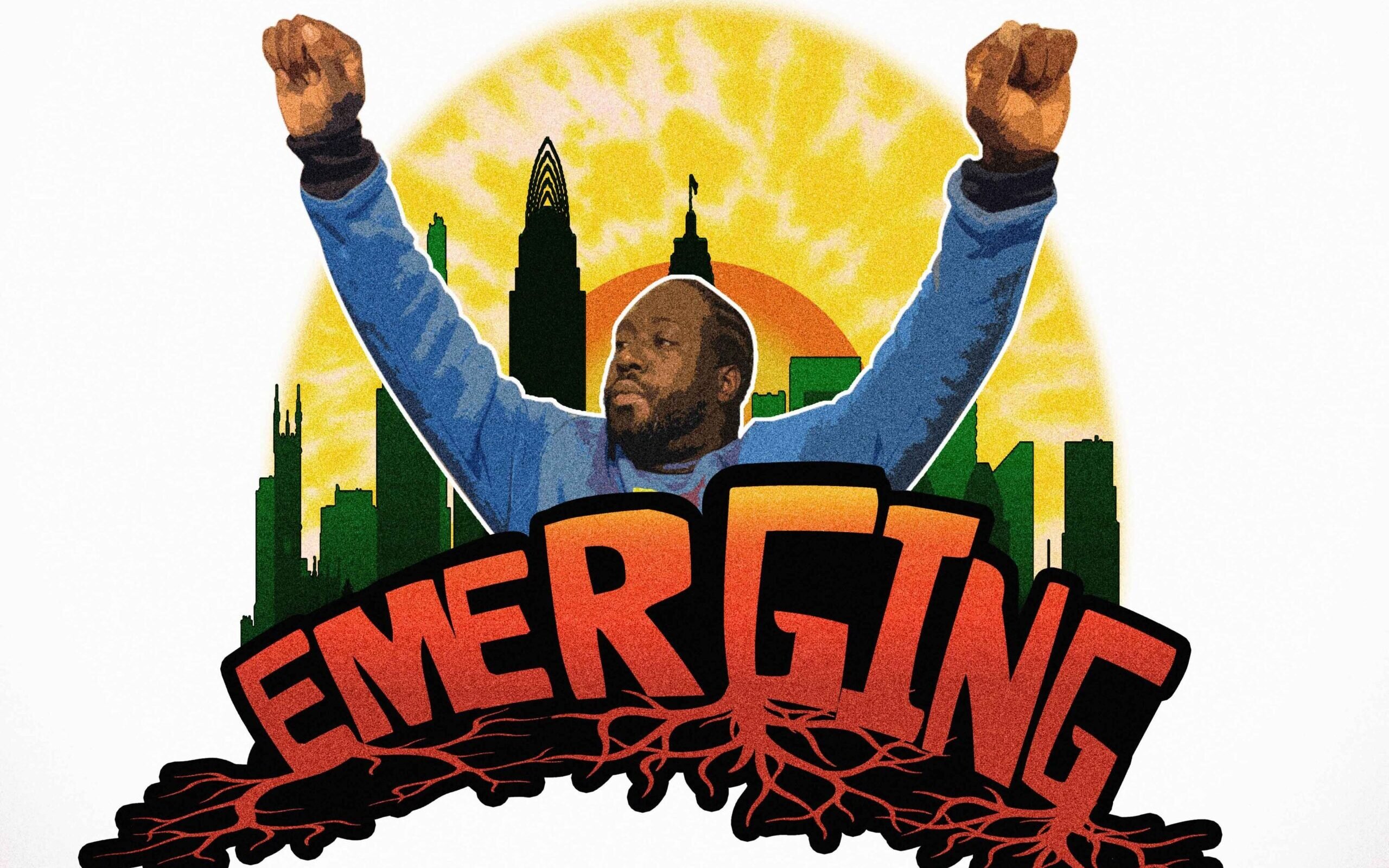 Latest album 'Emerging' was a long time coming for rapper Adub Nati. This is a contemporary take on his dedication to God, as Nati opens about his experience with spirituality.  Production wise, there's a real sense of integration in the first two tracks; 'Battling Time' and 'Get Me' act as two sides of the same coin with lopping guitar/piano riffs over chill lofi hip hop beats.
Adub Nati springs straight into action fusing his 90s style flows over raps about trusting God after struggles and sins. He then goes on to speak about the unfulfilling appeal of superficiality in 'Gotta Look Deeper',"The-the-the/trusting in our beauty bring us damage and pain/ because our pride taketh over bringing shame to our name. Ga-ga-ga- gotta look deeper, Ga-ga-ga- gotta look deeper/ Ga-ga-ga- gotta look deeper". This track is also accompanied by an authentic music video shot outside his hometown church. Throughout 'Emerging', Abud Nati brings his familiar lyrical themes with newfound twists and messages, adding in bible verses from the Old Testament Book of Deuteronomy, and sharing his childhood experiences with race and prejudice.
The themes on the latter are included on 'Black Flower Star', a standout track reminiscent of Jay Z's 4:44 album with its high pitched vocal loops and swinging drum patterns. There are actually a handful of producers on the project, and while Analog G takes the reins on the first five tracks, Vibration beats and Robert Thompson offer their styles to track 6 and track 7; the album is also mixed and mastered by Natwon. Closing song 'Don't Be Scared' brings a particularly profound end, boasting catchy hooks and asking listeners to keep moving through all the struggles. Adub Nati brings his best sounds and most sincere storytelling to 'Emerging'. It truly shows his growth as a rapper, and deserves a bundle of recognition.
'Emerging' is a fresh and innovative take on Christian rap. The album showcases Nati's growth as an artist and his dedication to his faith. The production is well integrated, with a mix of lopping guitar and piano riffs over chill lofi hip hop beats. The album is produced by a handful of producers and mixed and mastered by Natwon. It's a must-listen for fans of Christian rap and anyone looking for a positive and uplifting message.
Adub Nati or Alrick L.J Warner is an American songwriter and rapper with a solid skillset and pure intentions to boot. He was born in Texas and moved around Cincinnati as a child. During this time and after a period of crafting his skills as a producer, he would begin turning his attention to rapping. He released his debut mixtape 'Plan B', and has taken on Christianity with a vigour and fresh style. The rapper had always wanted to make a project that would live up to his respect for God, and it was only recently that he finally felt in the right state of mind and had the opportunity to do so. 'Emerging' marks a new side to Adub Nati as he moves up as an artist, if you're a believer and a fan of quality hip hop, you won't want to miss this one.
Support Adub Nati on Social Media
Instagram: https://www.instagram.com/adub_nati/
Facebook: https://www.facebook.com/adubisnati
Twitter: https://twitter.com/Adub_Nati