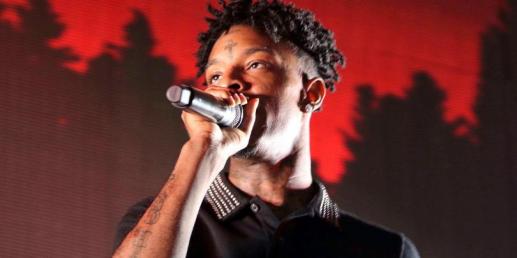 21 Savage's assets are well secured.
Apparently, even if 21 Savage's status in the United States remains in abeyance. there is a little bright side if things don't turn out in the Atlanta rapper's favor.
According to TMZ report on Saturday (Feb. 9), Authorities, ICE-included, have no jurisdiction over the rapper's assets. The only way ICE can freeze someone's assets whose status remains in limbo is if the "detained person" has committed an outlying crime – that is to say a crime unrelated to their immigration charges.
TMZ speculates that 21 Savage might be worth nearly $4million dollars after taxes, while various other outlets have the figure closer to $21 million.
The rapper was arrested last Sunday and subsequently accused of being an illegal immigrant from the U.K. who overstayed his visa. Evidently, 21 Savage whose parents are from Dominica, was born in the UK before he emigrated to Atlanta, Georgia as a teenager.
The rapper's lawyer insists he applied for a U visa in 2017 and say ICE is trying to spread false information about the rapper and intimidate him into leaving the country.
"We are unaware of why ICE apparently targeted Mr. Abraham-Joseph, but we will do everything possible to legally seek his release and pursue his available relief in immigration court," they said in a statement.
21 Savage is currently awaiting a hearing to see if he will be deported.