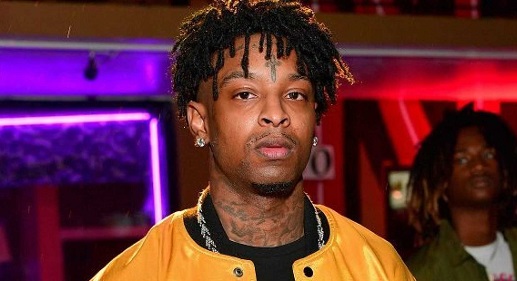 21 Savage may have "a lot" of explaining to do.
U.S. Immigration and Customs Enforcement agents took rapper 21 Savage into custody in Atlanta this weekend (Feb. 3), alleging he is in the United States unlawfully. They are reportedly threatening him with possible deportation.  ICE claims that he is actually from the United Kingdom and overstayed his visa.
The government officials claim the rapper entered the country legally in 2005 from the UK but later let his visa expire. If the validity of his visa did, in fact, lapse 21's removal from the US would be virtually certain. His case also involves his 2014 conviction of drug charges which earned him the label of a felon.
He was taken into custody in a "targeted operation" and faces deportation from the U.S. Savage has long claimed to be from Atlanta and was born there in 1992, according to Wikipedia.
ICE spokesman Bryan Cox: "U.S. Immigration and Customs Enforcement (ICE) arrested unlawfully present United Kingdom national Sha Yaa Bin Abraham-Joseph AKA '21 Savage' during a targeted operation with federal and local law enforcement partners early Sunday in metro Atlanta." https://t.co/G0WlPymYIr

— Mark Winne (@MarkWinneWSB) February 3, 2019
In a statement to TMZ, his attorney, Dina LaPolt, said, "We are working diligently to get Mr. Abraham-Joseph out of detention while we work with authorities to clear up any misunderstanding. Mr. Abraham-Joseph is a role model to the young people in the country—especially in Atlanta, Georgia and is actively working in the community leading programs to help underprivileged youths in financial literacy."
Those who have dealt with ICE know that once an individual enters the system, it is quite difficult to get them out regardless of their innocence.
Since the arrival of president Trump's administration, the plight of immigrants has only become more precarious. Hopefully, 21 Savage's economic status will play in his favor in addition to the cultural contributions he has offered through his music career.