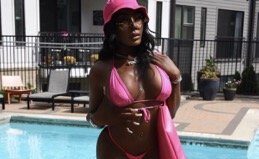 Interviewer: Good day. May I inquire about your name and place of origin?
Artist: My name is Yugioh (You-Gey-Oh), and I hail from Pennsylvania.
Interviewer: What initially drew you to the music industry?
Artist: My interest in music has been a lifelong passion. As a young child, I fondly remember my mother playing Fantasia's "Lose to Win Again" while cleaning on Sundays. Additionally, both of my older brothers were involved in rap, and I would often collaborate with them, seeking their guidance in crafting my own lyrics.
Interviewer: Who are some of the artists that inspire you?
Artist: I find inspiration in artists such as Lady Gaga, Doja Cat, and various others.
Interviewer: Can you describe your creative process?
Artist: My creative process is somewhat intuitive. I often find myself pondering ideas, and occasionally, something extraordinary springs forth from my mind. I diligently work to translate these thoughts into reality, and when I achieve it, the results are consistently astonishing.
Interviewer: Could you give us an insight into what an average day looks like for you?
Artist: My daily routine can vary, but it primarily revolves around my music career.
Interviewer: Is there a hidden meaning in any of your music?
Artist: I incorporate Arabic language and expressions in some of my songs, providing a subtle layer of depth and cultural richness to my music.
Interviewer: Do you engage in collaborations with other artists? If so, how does that process usually work?
Artist: Yes, I do collaborate with other artists. Generally, my team manages the collaboration process, but if there's a specific artist I'm interested in working with, I would reach out to them directly.
Interviewer: Could you elaborate on how you interact with and respond to your fans?
Artist: I hold deep appreciation for my supporters, whom I affectionately refer to as my "gods and goddesses." I maintain regular communication with them; they have access to my contact information. This journey in music is as much theirs as it is mine.
Interviewer: What do you enjoy most about your work, and on the flip side, what aspects do you find challenging?
Artist: My favorite aspect of being an artist is the satisfaction of sharing my creative ideas with the world. Witnessing people play my music, commit the lyrics to memory, and connect with my work on a personal level is a truly incredible experience. Conversely, the greatest challenge lies in the lack of personal privacy that comes with fame.
Interviewer: Have you ever grappled with performance anxiety or apprehension when releasing new music?
Artist: No, I've managed to overcome anxiety over time. I find it essential to take deep breaths and remain calm during such moments.
Interviewer: If you could offer advice to aspiring musicians, what would you say?
Artist: My advice would be to prioritize consistency. Don't let negativity deter you; instead, use it as fuel for your journey. Remember, persistence is the key to success in this industry.