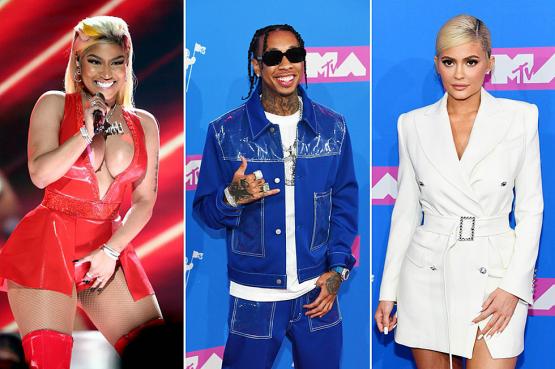 Tyga Takes Credit For Kylie Jenners Success
Tyga called in to Nicki Minaj's Apple Music show Queen Radio on Thursday (August 30). During the episode, the "Rack City" wonder took credit for Kylie Jenner's success while Nicki played devil's advocate, calling him out for his sexist views.
"A lot of men say stuff like that, I always gotta rep for my women," Nicki says. "A lot of men say stuff like that … but what about all the work that this person is doing for their career?"
Tyga explains, "You gotta look at the before and after. She always had a platform and she was always destined to be what she was going to be regardless. When I stepped in, it was like, you can do this, you should do this, you should start doing your hair like this.
"You should adapt 'cause you need black people to fuck with you 'cause you need culture. If you ain't got black people behind you, you ain't got nothin'. Ain't nobody gonna listen. You can Stream't influence nobody. So, I had a lot to do with all that, which I don't credit for."
https://youtu.be/iNLgp87xhtQ
When Nicki asks if he missed Jenner, Tyga's response was, "Nah, I'm good love. Enjoy." Tyga and Jenner dated off-and-on for a couple of years before officially calling it quits in 2016. Since then, Jenner has coupled up with Travis Scott and had their first child together, Stormi. He insists there's no bad blood between he and La Flame though.
"We ain't got no beef. It's his time right now," he said. "You gotta let it ride. I ain't got no beef with him." As Nicki continues to bait him, seemingly wanting him to say something negative about Astroworld, Tyga adds, "'Queen's number one in my book."
Stream the clip above.