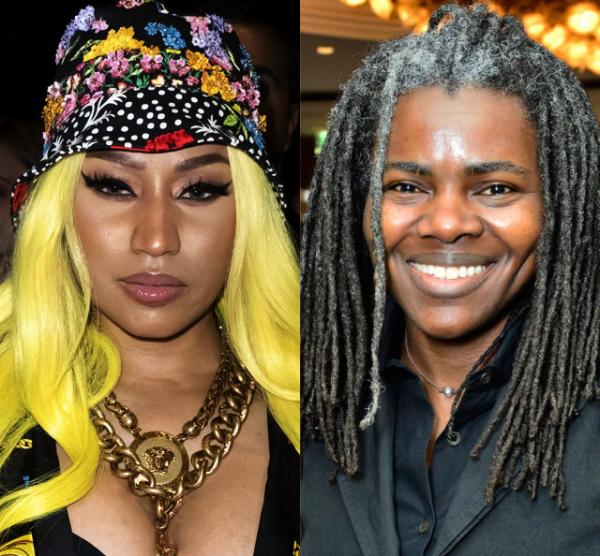 Tracy Chapman Sues Nicki Minaj Over Sorry Sample
Chapman has accused Nicki Minaj of stealing her song "Baby Can I Hold You" for her Nas-assisted song "Sorry," according to TMZ.
In June 2018, Minaj and her reps reached out to Chapman's team to license "Baby Can I Hold You" for her album Queen, but the requests were repeatedly denied.
But a day after Queen's Aug. 10 release, "Sorry" surfaced after being played on the radio by Hot 97's Funkmaster Flex. It eventually made its way online. In the lawsuit, Chapman alleges that the song uses half of the lyrics and vocal melody from "Baby Can I Hold You."
Minaj made her battle with Chapman public in August after revealing that the Chapman sample clearance was holding up Queen. She considered delaying the album by one week.
"So there's a record on #Queen that features 1of the greatest rappers of all time," wrote Nicki in a since-deleted tweet. "Had no clue it sampled the legend #TracyChapman – do I keep my date & lose the record? Or do I lose the record & keep my date? 🤦🏽‍♀️ do we push #Queen back 1week? Ugh! I'm torn, y'all help."
The day "Sorry" was played on air, Nicki tweeted, "Sis said no." According to the lawsuit, the tweet refers to Chapman's denial to clear her song.
"Sorry" never actually appeared on Queen, but Chapman says the damage is done. As part of the suit, she is seeking to prevent Nicki and her team from releasing the song again as well as monetary compensation.