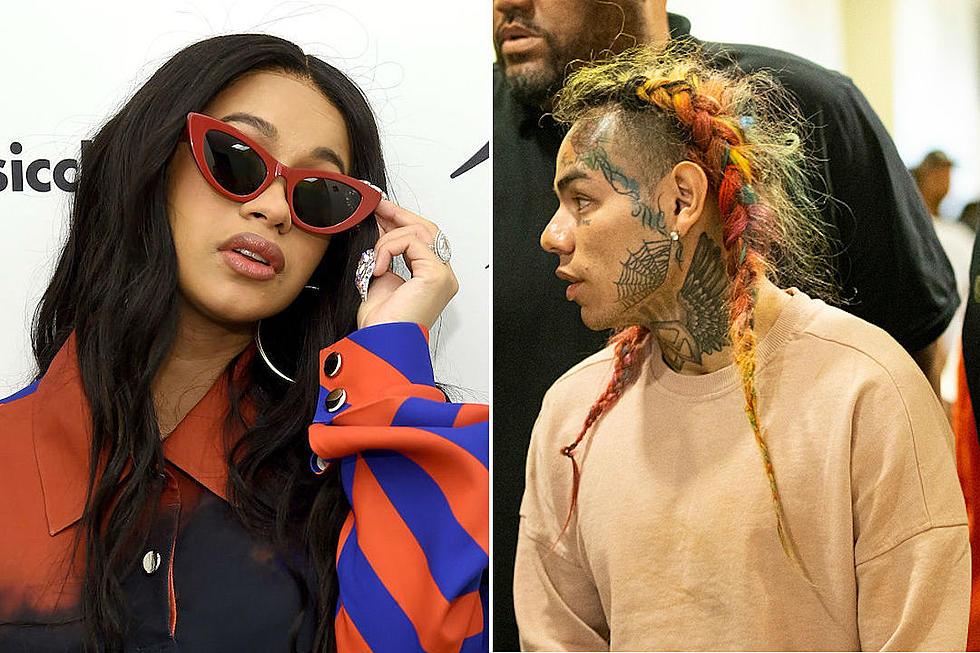 Tekashi 6ix9ine Snitches On Cardi B: Day three of the Tekashi 6ix9ine testimony in court sees the rapper singing like a canary.
He testified that Cardi B, the Bodak Yellow crooner, is a fellow member of the Nine Trey Gangsta Bloods gang, and while he claims not to have copied Cardi's blueprint, by including gangsters in music videos, the "FEFE" rapper confirmed details of their criminal activities, naming also, Jim Jones as a member of his former gang.
"I knew who she was. I didn't pay attention," he told the court, reports Page Six. Tekashi is facing 47 years in prison but could get a much lighter sentence in exchange for his snitching. He is testifying in Manhattan federal court against Nine Trey members Aljermiah "Nuke" Mack and Anthony "Harv" Ellison, telling all their dirt in the various illegal activities from last few years which included trying to take down Trippie Redd.
Cardi has in the past been known to talk about her affiliation to Bloods. "When I was 16 years old, I used to hang out with a lot of Bloods. I used to pop off with my homies. And they'd say, 'Yo, you really get it poppin'. You should come home. You should turn Blood.' And I did. Yes, I did," she told GQ last year.
When Tekashi was questioned whether he was testifying in the case to help the government or to get a lesser sentence, he replied, "little bit of both. Yesterday, a 10 minute long audio of his testimony surfaced online.
NY Daily News has however clarified, that Tekashi was only asked if Cardi is a Blood gang member and not specifically about Nine Trey.
See excerpts from the trial below:
"You joined the Bloods to advance your music year?" Alex Huot, an attorney for accused gangster Aljermiah "Nuke" Mack asked.
"Yes," Tekashi replied.
"You knew Cardi B was a Blood?" Huot asked.
"Correct," Tekashi said.
"You knew Cardi B made music videos with Bloods in the background?" the attorney asked.
"Correct. I didn't pay attention," Tekashi said.