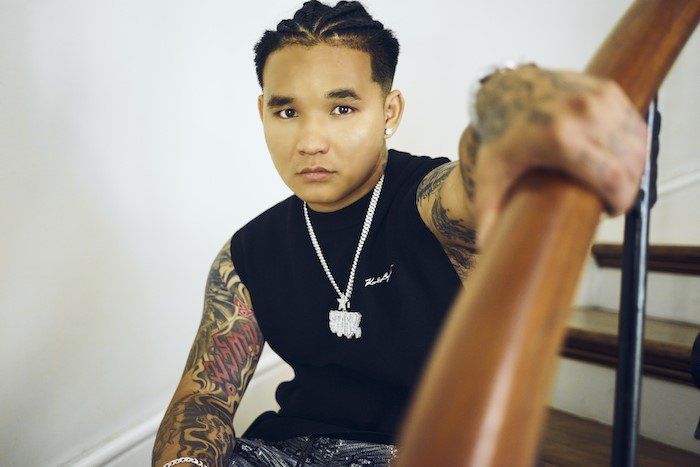 Pop meets hip-hop artist Star2 drops a fresh single and music video titled 'Bottle Service.' After making waves in the Asian-American hip-hop scene, Star2 is going back to his origins with a heartfelt pop ballad that delves into his childhood crush. 'Bottle Service' narrates the tale of young love, tracing its journey from second-grade innocence to adulthood. It's a nostalgic reminder of the magic of first crushes, and 'Bottle Service' captures that sentiment perfectly."
Star2 fills the atmosphere of "Bottle Service" with saccharine strings, melodic beats, and a breathless vocal that glides seamlessly over the track. He romanticizes his great ambitions and dreams of sweeping his girlfriend Natalie off her feet. "Bottle Service" will fill your stomach to the brim with butterflies over stripped-down sonics and emotive lyricism.
Star2 was born into a Thai refugee camp before gaining passage to San Diego as a young child. He has collaborated with a vast array of artists including Soulja Boy, $tupid Young, Mozzy, MBNel, Luh Kel, Lil Poppa, HoodTrophy Bino, YSN Flow, and MarMar Oso to name a few. He's garnered millions of streams and views across platforms and has received acclaim from the likes of Harper's Bazaar Vietnam, GQ, Earmilk, BET, Lyrical Lemonade, HotNewHipHop, HipHopDX, The Source, Ones to Watch and more.
Star2 began his life in a Thai refugee camp where he was forced to flee genocide from the Burmese army in Myanmar who burned his village to the ground. A lottery in the camp brought him to San Diego with his grandmother and her four children, where he began a new life. Now, under the mentorship of esteemed producer Chico Bennett, his collaborations with acclaimed rappers include Soulja Boy, $tupid Young, Mozzy, MBNel, Luh Kel, Lil Poppa, HoodTrophy Bino, YSN Flow, and MarMar Oso to name a few. While not on tour, he documents his journey in the popular 'Adventures of Star2' series on YouTube. As an influential figure in Asian-American music, Star2 entwines heartfelt stories with captivating visuals, chronicling a tale of resilience and ascent. Esteemed platforms like Harper's Bazaar Vietnam, GQ, HotNewHipHop, Ones to Watch, BET, and Lyrical Lemonade, among others, have celebrated his contributions.