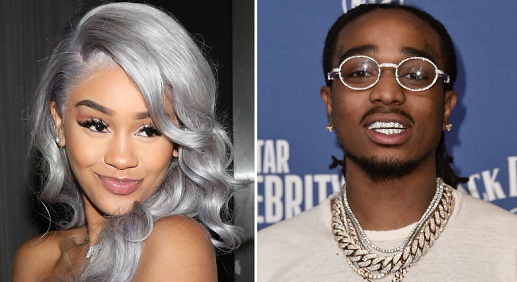 Quavo and Saweetie are making it official.
The Migos rapper copped a diamond chain for his "ICY" girlfriend as a Christmas gift. According to TMZ, the custom snowflake-shaped bling cost him $75,000.
Icebox in Atlanta designed the diamond baguette pendant and chain, which Quavo picked up right before the holiday.
Saweetie recently took to Instagram to show off the lavish gift from her boyfriend. Quavo added a personal touch by inscribing his nickname on the back of the chain, which reads: "Icebox from the Glacier Boy."
The snowflake chain has significance for Saweetie, whose hit single "ICY GRL" was released last year. Quavo and Saweetie began dating over the summer.
They also co-starred in Quavo's "Workin Me" video, and collaborated on "Give It to Em" off Quavo's debut album Quavo Huncho.
Despite the public show of affection, the couple has remained coy about their relationship in interviews. "We've been getting to know each other," Saweetie told "The Real" in September. "I enjoy his company."