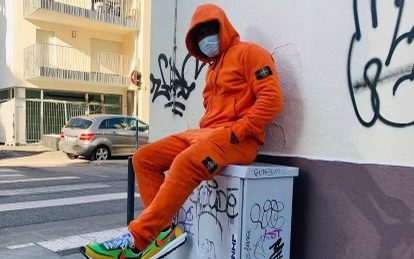 Music is one of the most powerful mediums that connect people across cultures and borders. In this era of social media, talented musicians are a dime a dozen, but it takes exceptional skills to thrive. There are many talented musicians out there today, but not all of them are equipped to deal with our fast-paced society. Namek237's ability to do that while maintaining quality music speaks volumes about his skillset and staying power. Namek's versatility as an artist and commitment to excellence set him apart from the rest of the pack and makes him a musician to watch out for in this generation.
Namek237 is a saxophonist and improviser with an extensive repertoire of classical, jazz, and experimental music. The artist plays several ranges of alto and soprano saxophone, jazz, and blues, which allows him to create many kinds of music. His music varies from slow, smooth jazz tunes to fast-paced, bluesy songs that get your feet tapping on the dance floor. The jazz musician's compositions are infused with soulful melodies, stirring harmonies, dynamic rhythms, and timeless lyrics that connect to the listener emotionally.
Born in Cameroon in Central Africa, Namek's passion for music developed at a young age. His earliest memories of music involve his father, who introduced him to different rhythms and genres. That led him to discover artists from his home country and other parts of the world. The many musicians and genres he listened to helped broaden his horizons and gave him a fresh perspective. As he grew older, Namek developed a passion for classical music and began an earnest pursuit of the craft.
Determined to become as big as his musical influences, Namek237enrolled in music school in Paris to further hone his skill. With many years of exposure to music and practice backing his skill, it didn't take him long to thrive. The results of years of training and his persistence first manifested at a competition held at the music school. During the event, Namek237 had to face the best saxophonist at the school who he beat hands down to win the title that year. Namek237 won that title three years in a row, further reinforcing his standing as the reigning saxophonist.
Winning titles at school ushered in another phase for the budding star. Over the last few years, Namek237 has given saxophone lessons to college students and traveled the world playing music. He has performed in many conservatories in France and Belgium, and plans are underway to take his talent to other countries. Namek237 strives for musical perfection in his work and is always eager to learn and improve his skills.
Namek's mission is to evolve the classical music space and make it more popular, especially for young people. As social media grows, Namek237 is using his platforms to spread his work and gain more visibility. His goal is to attract a more diverse audience that will appreciate his compositions. Namek237 hopes to travel to more parts of the world and fill concert halls in the future. He also hopes to promote cohesion and welfare among musicians by creating associations for people from poor and challenged neighborhoods. Namek237 plans to start at home in Cameroon and later expand the mission abroad.