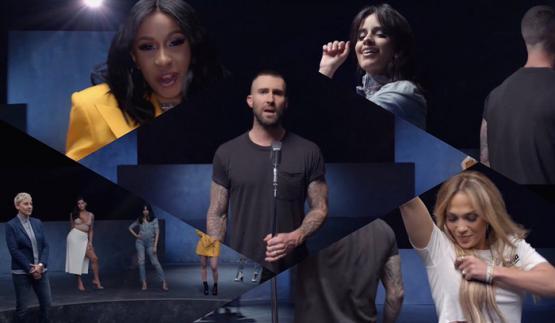 Maroon 5 Girls Like You ft Cardi B Stream
Maroon 5 Girls Like You ft Cardi B Stream – Fresh off videos for "Be Careful," "I Like It," and "Dinero," Cardi B teams up with Maroon 5 in the star-studded video for the band's single "Girls Like You."
Directed by David Dobkin ("Sugar"), the clip is a celebration of women and stars many familiar faces. As frontman Adam Levine stands in the middle of an empty studio, he is joined by a revolving door of famous women including Jennifer Lopez, Mary J. Blige, Camila Cabello, Rita Ora, Gal Gadot, Tiffany Haddish, Millie Bobby Brown, Ellen DeGeneres, Aly Raisman, Sarah Silverman, and Ashley Graham. In the final scene, his wife Behati Prinsloo and their daughter Dusty Rose make a touching cameo.
Dressed in an oversized yellow blazer, a pregnant Cardi delivers her verse. "Not too long ago I was dancing for dollars," she raps. "Know it's really real if I let you meet my mama / You don't want a girl like me, I'm too crazy / But every other girl you meet is fugazi."
Taking to Instagram, Cardi gushed about the collaboration. "I FUCKING LOVE THIS SONG AND THE VIDEO IS SOO INSPIRING!!!" she said. Maroon 5 Girls Like You ft Cardi B Mp3
"Girls Like You" is the latest single off Maroon 5's album Red Pill Blues, which features Kendrick Lamar, SZA, and A$AP Rocky.