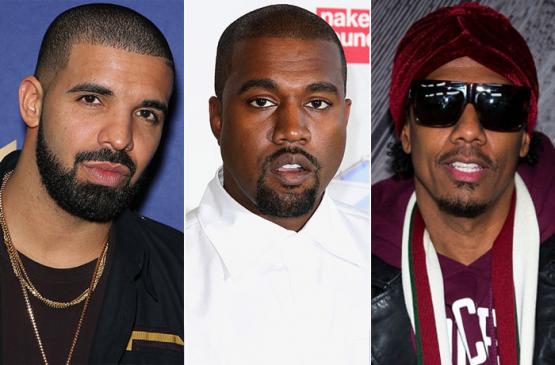 Kanye West Defends Kim Kardashian Against Drake, Nick Cannon
Kanye West is going to bat for his wife.
In a series of videos, which were posted to his social accounts on Thursday (Sept. 20), the rap mogul defended Kim Kardashian West against comments made by Nick Cannon and rumors that she slept with Drake.
"I just wanted to express some things that were not sitting right with my spirit. Now that I'm up out the sunken place I can think and I can just be 'Ye and just express how I feel. There's a couple things that I want to address," he said in the first clip.
"First of all, I want to address Nick Cannon. I understand that you used to date my wife, but you know, you get into an interview, don't mention my wife," he said, referring to comments made by Cannon in a Complex interview where he didn't think it was "that far off of a concept" that Drake and Kim hooked up.
"If someone brings my wife up, you say, 'I respect that man, I'm not speaking on that.' Don't be making no suggestions, like nobody fu**ed my wife," said Kanye.
https://youtu.be/iR3qwxnjgqI
He also addressed Drake, whose chart-topping hit "In My Feelings" references a mystery "Kiki," which also happens to be Kim Kardashian's nickname. "If I wasn't in a medicated state, I might have thought and had the wherewithal to say, 'Hey Pusha, don't diss Drake on my beat and I spoke about that and took accountability for that,'" said Kanye, who previously apologized to Drake for allowing Pusha-T to diss him on "Infrared," which he produced.
Whether or not "Kiki" is actually referring to Kardashian, Kanye is not happy that the lyric could be misconstrued. "The fact that it's people making rumors or thinking that you f**ked my wife and you're not saying nothing and you carrying it like that…that don't sit well with my spirit," he added. "You know, if I had a girlfriend from Chicago, her name was Renita, and you was married to Rihanna, I wouldn't make no song called 'RiRi.' So when you're like, 'Ahhh, I don't know where it come from.' You're too smart for that, bro. You know where that come from. Don't make no record with nothing that can be confused."
For her part, Kim has previously denied having any romantic relationship with Drake. "Never happened. End of story," she said in response to the rumors.