Fuego The Profit is a rising hip-hop artist hailing from Houston, Texas. His music is a reflection of his life experiences, with a focus on uplifting messages and powerful beats. Fuego The Profit's music draws inspiration from his upbringing in an unfortunate environment, where he learned the value of a strong mind and faith to overcome adversity.
With a new project just released called "I Want You Bad" and a few more in the works for June, including "Been There Done That" and "Peachy," Fuego The Profit is quickly making a name for himself in the hip-hop community. As an artist, he has learned some valuable lessons, such as the importance of loving your craft more than the money it generates and investing in yourself.
Fuego The Profit doesn't look up to any one particular artist but rather has respect for anyone with God-given talent who can turn an idea into something great. However, he does have a special admiration for DJ Khaled for his energy and music composition skills. Other industry icons he would like to work with include Scott Storch, Fat Joe, and Russ.
When asked about his favorite track, Fuego The Profit highlights "Missed Calls," a clean and relatable track about breakups. He believes it has the potential to be a huge hit if promoted properly. The message behind the song is powerful, and Fuego The Profit hopes it can touch listeners going through similar experiences.
For Fuego The Profit, success as an artist is not just about money but about doing what you love, even during tough times, and having a passion for the craft. He believes that success should be defined by heart and dedication, not just by financial gain.
Fuego The Profit's art has not only helped him in his own life but has also brought tears to others. He believes that music can have a powerful impact on society if the message is right and promoted correctly. His style has evolved over time through experimenting with different genres and hundreds of instrumentals.
As an artist, Fuego The Profit manages his work-life balance through discipline and proper budgeting. He has several video projects coming out soon and plans to market them with great content and consistency. He believes that the music industry is currently filled with talent, but too many are promoting the wrong message. He looks back at the early 2000s as a more impactful time for hip-hop.
The best advice Fuego The Profit has ever received is to never take advice from people who don't have what he wants. For his upcoming projects, Fuego The Profit plans to invest and market them properly, and his advice to other artists is to keep God first and not be afraid to take a chance on themselves.
Fuego The Profit is an up-and-coming artist with a powerful message and a unique style. His music reflects his life experiences and offers a beacon of hope for listeners going through tough times. As Fuego The Profit continues to make his mark on the music industry, we can only expect great things to come from this rising hip-hop star. He is already making waves in the music industry with his latest single 'I Want You Bad.' The track has been receiving an overwhelming response from the audience, and it's evident from its current iTunes ranking at 58 for the Hip-Hop genre. The catchy beats, coupled with Fuego's raw and powerful lyrics, have struck a chord with listeners worldwide. The success of this single is just the beginning of a promising career for Fuego The Profit, and fans are eagerly waiting to see what he has in store for them next. With his talent, hard work, and determination, it's no doubt that Fuego The Profit is on his way to becoming a major player in the hip-hop scene.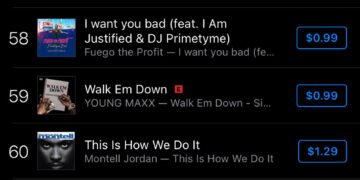 If you're a fan of Fuego The Profit and want to keep up with his latest projects and updates, you can follow him on Instagram and subscribe to his YouTube channel. Fuego's social media pages are an excellent way to stay connected with the artist and his music. You can expect to see behind-the-scenes footage, exclusive interviews, and announcements about upcoming releases. Moreover, subscribing to his YouTube channel gives you access to all of Fuego's music videos, live performances, and other exciting content. Don't miss out on the opportunity to join the Fuego The Profit fan community and be a part of his journey to the top of the hip-hop scene.