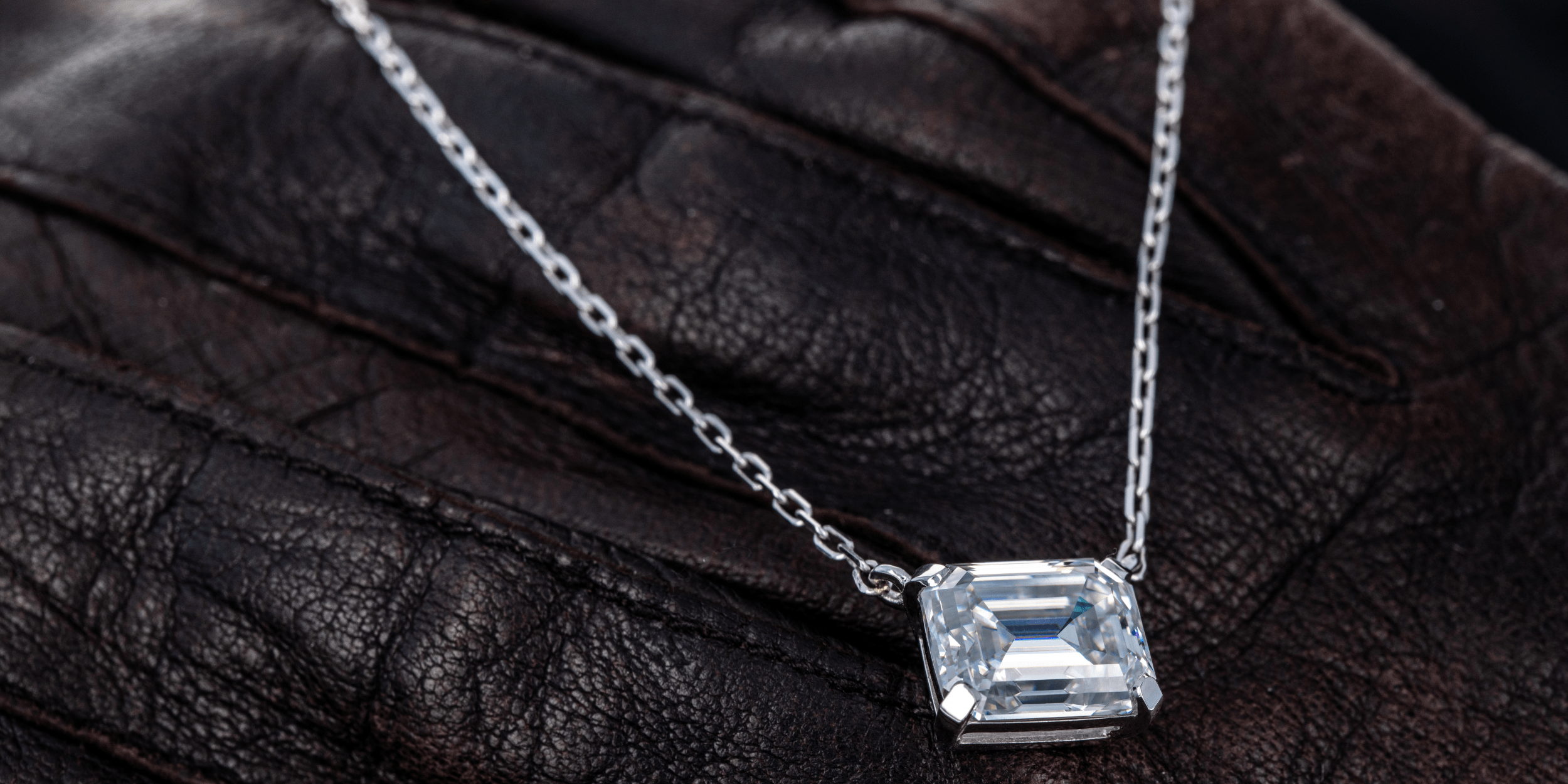 In the realm of hip hop fashion, bling is king, and nothing adds more flair and dazzle than Moissanite hip hop jewelry. While often associated with women, men's Moissanite hip hop jewelry has gained significant popularity for its bold and stylish appeal. In this comprehensive guide, we will delve into the diverse types of men's Moissanite hip hop jewelry, exploring how each piece contributes to the world of urban fashion.
Chains that Command Attention
Moissanite hip hop chains are iconic pieces that have become synonymous with urban style. These chains come in various designs, from classic Cuban links to intricate rope chains, each featuring glistening Moissanite stones that capture and reflect light in a mesmerizing dance.
Statement Rings for the Fingers
Moissanite hip hop rings are bold statements of individuality. Whether encrusted with a single oversized Moissanite gem or a cluster of stones, these rings demand attention and add an element of extravagance to any outfit.
Iced-Out Watches for the Wrist
A Moissanite hip hop watch is a symbol of luxury and precision. These watches often feature Moissanite-studded dials and bezels, offering a dazzling and functional accessory that blends urban style with timeless elegance.
Earrings that Sparkle
Earrings have long been a staple of hip hop fashion, and Moissanite hip hop earrings take the trend to the next level. From studs to hoops, these earrings bring a brilliant shine to the ears, framing the face with style and flair.
Pendants that Tell a Story
Moissanite hip hop pendants are more than just jewelry; they're statements of identity. From customized nameplates to symbolic pendants, these pieces allow men to express their individuality and values in a blinged-out way.
Bracelets that Define the Wrist
Moissanite hip hop bracelets for men come in a range of styles, from chunky link bracelets to sleek bangles. These bracelets add a touch of extravagance to the wrist, making a statement that can't be ignored.
Grillz That Shine Bright
Grillz, often associated with hip hop royalty, has seen a resurgence in popularity. Moissanite hip hop grillz offers a unique twist, with shimmering stones adorning these dental accessories, adding a flash of brilliance to the smile.
Matching Sets for the Ultimate Moissanite Experience
For those who want a coordinated and complete look, many jewelry brands offer matching sets of Moissanite hip hop jewelry for men. These sets often include chains, rings, and pendants designed to complement each other, ensuring a harmonious and stylish appearance.
Guidelines for Combining Moissanite Hip Hop Jewelry Pieces
Combining Moissanite hip hop jewelry pieces to create a cohesive and appealing look requires a good sense of style and some creative flair. Here are some guidelines to help you achieve a great and appealing combination:
Start with a Focal Point
Begin by selecting one standout piece that will serve as the focal point of your look. This could be an iced-out pendant, a chunky chain, or a blinged-out watch. The focal point will anchor your ensemble.
Match Metals
Ensure that the metals of your jewelry pieces match or complement each other. For example, if you're wearing a gold chain, opt for gold rings, bracelets, and earrings to maintain a cohesive theme.
Balance Size and Proportion
Balance the size and proportion of your jewelry. If you're wearing a bold and oversized pendant, consider pairing it with smaller, more understated earrings and bracelets to avoid an overwhelming look.
Mix Styles
Experiment with mixing different styles of jewelry. For instance, combine classic pieces like a Cuban link chain with more contemporary items like stud earrings. This mix of styles can create a unique and interesting ensemble.
Layer Chains Wisely
Layering chains is a popular hip hop jewelry trend. When layering, vary the lengths and thickness of the chains to create depth and dimension. Ensure that each chain is visible and contributes to the overall aesthetic.
Coordinate Gemstones
If your jewelry pieces feature gemstones, consider coordinating the colors or types of gemstones. This can tie your jewelry together and create a harmonious look.
Match Your Outfit
Take your outfit into account when selecting your jewelry. Jewelry should complement your clothing style and color palette. For example, if you're wearing a black ensemble, silver or white gold jewelry can provide a striking contrast.
Consider Your Style
Your style plays a significant role in how you combine Moissanite hip hop jewelry. If you prefer a minimalist look, focus on one or two statement pieces. If you're all about extravagance, layer on the bling.
Be Mindful of Occasion
Consider the occasion and setting. While a fully blinged-out ensemble might be perfect for a hip hop concert, it may not be suitable for a formal event. Adapt your jewelry choices accordingly.
Accessorize Smartly
Don't forget about other accessories like sunglasses, hats, and belts. These can complement your hip hop jewelry and complete your overall look.
Confidence is Key
Ultimately, confidence is your best accessory. Wear your Moissanite hip hop jewelry with pride and self-assuredness. Confidence can make even the boldest jewelry combinations look appealing.
Remember that personal style and individual preferences play a significant role in how you combine Moissanite hip hop jewelry. Experiment, have fun, and don't be afraid to push the boundaries of fashion to create a unique and appealing ensemble that reflects your personality and style.
Determining the Value of A Moissanite Jewelry
The value of Moissanite jewelry, like any other type of jewelry, depends on various factors. Here are some key considerations that can contribute to the value of Moissanite jewelry:
Moissanite Quality: The quality of the Moissanite gemstones used in the jewelry significantly impacts its value. High-quality Moissanite stones exhibit exceptional brilliance, clarity, and colorlessness, closely resembling natural diamonds.
Carat Weight: The size of the Moissanite stones, measured in carats, plays a role in determining value. Larger stones are generally more valuable, but their value also depends on their quality.
Metal Type: The type of metal used in the setting, such as 14k gold, 18k gold, or platinum, affects the value. Precious metals like gold and platinum add intrinsic value to the piece.
Craftsmanship: The quality of craftsmanship and attention to detail in the jewelry setting can significantly impact its value. Well-crafted settings that securely hold the Moissanite stones and exhibit fine workmanship are more valuable.
Customization: Customized Moissanite jewelry, especially pieces designed to the wearer's specifications, can be more valuable due to their uniqueness and personalization.
Brand and Designer: Moissanite jewelry from reputable brands or renowned designers may command a premium price due to their reputation for quality and style.
Rarity and Uniqueness: Jewelry that features unique or rare design elements, such as intricate patterns or rare gemstone shapes, can have higher value.
Ethical and Eco-Friendly Sourcing: Moissanite jewelry that is ethically sourced and environmentally friendly may be more valuable to individuals who prioritize responsible consumer choices.
Certification: Jewelry that comes with certifications verifying the quality and authenticity of the Moissanite stones may have higher perceived value.
Market Demand: Market trends and demand for Moissanite jewelry can also influence its value. Popular styles or designs may command higher prices.
Condition: The condition of the jewelry, including wear and tear, can affect its value. Well-maintained pieces in excellent condition are generally more valuable.
Provenance: The history or story behind a particular piece of Moissanite jewelry can add sentimental value, which may influence its perceived worth.
It's important to note that while Moissanite jewelry can be a more affordable alternative to natural diamond jewelry, its value is subjective and can vary based on individual preferences, trends, and market conditions. Ultimately, the value of Moissanite jewelry is a combination of its inherent qualities, craftsmanship, and how much it is cherished by the wearer.
Conclusion
In conclusion, men's Moissanite hip hop jewelry offers a myriad of options to elevate your style and make a bold statement. From chains that command attention to rings, watches, earrings, pendants, bracelets, grillz, and matching sets, there's a Moissanite hip hop piece for every taste and preference. Embrace the brilliance and uniqueness of Moissanite hip hop jewelry, and let your style shine brighter than ever before. Discover your signature moissanite hip hop piece. Ready to add a touch of bling to your urban fashion? Explore the collection of men's Moissanite hip hop jewelry and discover the piece that resonates with your style. Express yourself with brilliance, confidence, and flair. Shine on, hip hop king.