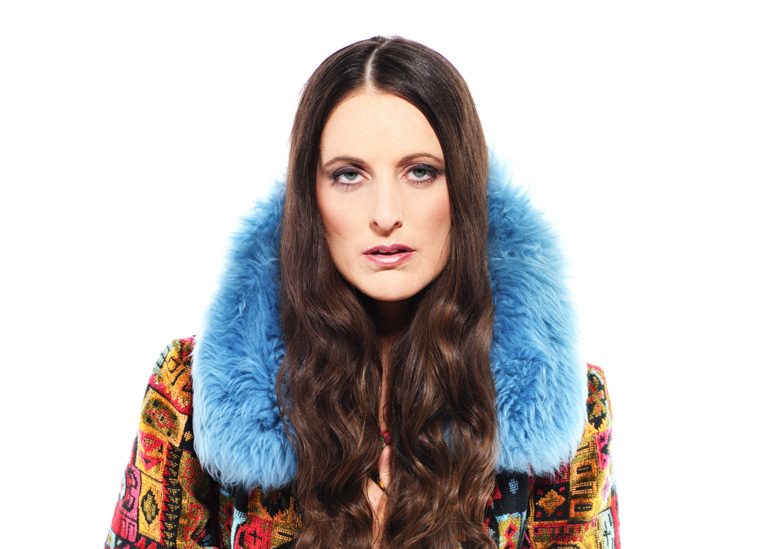 Jackie Carson (born Jacqueline Marie Landa) is the youngest of three siblings of Joseph and Carol Landa. Joseph Landa is an Entrepreneur Appliance Business owner, and played guitar in bands throughout Pittsburgh in his early years, and Carol Landa (billing specialist at a family doctor), currently fighting CTE in a nursing home since her early 60's. Jackie was exposed to music at a very young age. Her family saw Elvis Presley live 4 times, possibly more, with her father being a huge fan. Her mother has relatives that were music teacher's and composer's back the line. Her father has many thousand's of records, and learned to repair tv's, record players, and radios at the age of ten. Rather than grow up with cassette players, or CD's in her early years, her father had a record player in each of the kid's rooms.
They had records in their rooms, and Jackie had many Doowop, and Motown records, in addition to listening to current songs being played on the radio. Jackie loved Freda Payne's Band of Gold, singing if often as a child, Stevie Wonder, The Jackson Five (I Want You Back was her favorite song to sing out of any song), Sam Cooke, Whitney Houston, SWV, and Tiffany to name a few. She had one cassette tape, from her toddler years, (about age 3) where she made a band with her siblings. Her dad was a fan of Huey Lewis & the News. They each tried playing instruments on the tape, maracas, a keyboard, but all of a sudden Jackie starts singing at the top of her lungs, into a vacuum cleaner to be her microphone, "Hip to be Square", you could tell she wanted all attention to be on her on the tape. She also loved Madonna, and would line up her stuffed animals like they were fans and sing Like a Virgin, True Blue, and Material Girl to them. Her brother spied on her, teased, and would embarrass her.
In years to follow, her elementary school gave her the lead in musicals in Kindergarten and 1st grade. She acted her parts well, even showing emotion with her acting. In 6th grade she tried out, extremely shy for a solo in choir, but wasn't picked, she then wouldn't join choir until 9th grade when the teacher selected her to sing Hero by Mariah Carey. She got a huge applause after singing the starting verses. Years to follow her choir teacher bullied her by complaining of her singing too nasal, rather than school choir like, and even got other choir students in on the bullying. Jackie was in volleyball, and cheerleading in high school, teammates would ask her to sing to them on the bus, and then she was asked to start singing the National Anthem at every volleyball, and basketball game. She was in the school musical every year but didn't show her vocal ability due to bullying if she tried to get a lead part.
Girl bullies would pick at her, and even tried to steal her position of singing the National Anthem. They also would say things like" Let's sing Whitney Houston's greatest hits". When asked about the bullying years later, she was told, I felt threatened by you, and loved singing so much. Jackie knows they were kids, but still feels bullying is hard on kid's mental health. In early high school years she developed anxiety, not realizing what it was, and never got help for it until the age of 26. She worked for the Federal Government and was afraid if she got help, that she would lose her security clearance. She feels anxiety is a blessing, and a curse because it's very hard on you socially, but makes you try hard at what you love to do. It definitely played a role in my success with singing, and songwriting. It makes me obsessively perfect them both constantly.
Jackie sent a tape into the Pittsburgh Penguins, singing the National Anthem getting a call back the very day Slippery Rock University (SRU) mailed her a try out next year letter.
She also received extremely low markings by Honor's Chorus in the state of Pennsylvania in high school, making her cry and want to quit singing altogether. Choir teachers absolutely hated how Jackie sang. After the Penguins call back, she never heard back, and heard they kept the same singer. She then sang hooks for many rappers in the Butler, New Castle, and Pittsburgh, PA areas. After a controlling relationship lead to constant abuse over her singing with the rap groups, she eventually bought a soundboard, and continually kept working on songwriting at home, barely knowing how to turn it on at first. She tried out for Pittsburgh Idol, not getting picked, but did receive a louder than normal applause. She tried out for the Voice also not getting picked. She also sang songs with a band called Xtremely Loaded a few times, and sang with her friend at bars many times, in her teens, in Charleston, South Carolina.
One day a professional gave her advice on Linkedin that she had decent songs, and sang well, but needed a Producer. She was interested in Troy Mitchell who she saw did work with Salt-N-Peppa, Timbaland, and Teddy Riley. He also was friendly when she messaged him. She sent him her song "I Wanna Dance" that she recorded with a basic keyboard beat. He Produced "I Wanna Dance", and then she started paying him to produce some of her other songs making a first EP together. When she uploaded it to Soundcloud she noticed "I Wanna Dance" really took off.
"I Wanna Dance", the song, is about a woman in a club that is interested in a guy at the same club, she wants to know where she stands with him relationship wise. Also, she's a bit cocky in the song, "Try and keep up with me if ya can, guaranteed you'll have to stop, I keep dancing to hip hop!" When I first wrote this, I loved when people picked up on the cockiness challenging him to dance in the song, on Soundcloud comments. One person wrote, "Try and keep up with me IF YOU CAN….smooth track!". 'I like it that they paid attention to my lyrics that closely catching onto this' – Jackie stated. Listen below and share your thoughts.
Connect with Jackie Carson on social media for updates on new music, videos, and more; @jacquelinecarson21