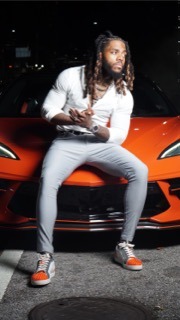 Hailing from the culturally-rich city of Chicago, Illinois, Dynzell Sigers, known to many as MrBrokenBonez, is making his mark on the music scene. More than just an artist, Sigers is a testament to the transformative power of music and the enduring spirit of resilience.
After serving in the military, Sigers faced an uphill battle against Post-Traumatic Stress Disorder (PTSD). However, he found healing and a sense of purpose in music. His songs became a vehicle for expressing his emotions and experiences, turning his personal journey into a source of inspiration for others.
Unlike many artists, MrBrokenBonez did not start his journey with a natural knack for music. Instead, his unique sound is the fruit of years of dedicated study and practice. His commitment to his craft is matched only by his fearless determination, as evidenced by his decision to undergo surgery to increase his height from 5'5″ to 6'0″.
In his lyrics, MrBrokenBonez shares his philosophy on life, encapsulated in his favorite line: "Every limit that you set might be your only limitation." His life and music embody this belief, pushing boundaries and striving for greatness. His ultimate goal is to rise to the top of the global music scene and to inspire others with the message that they can conquer any obstacle in their path.
Having recently released his debut single, with another one on the way, MrBrokenBonez is ready to leave his mark on the music industry. His compelling narrative of overcoming adversity, coupled with his distinct sound, sets him apart as one to watch.
You can follow his journey on TikTok and Instagram under the handle @mrbrokenbonez, and on YouTube at Bigg NTK. As he continues to ascend in his career, MrBrokenBonez is not only breaking barriers in the world of music but also inspiring countless others to do the same.
Keep an eye on this rising star as he fearlessly carves out his path in the music industry. MrBrokenBonez, the artist who turned trials into triumphs with his music, serves as a reminder that the only limits we have are the ones we set for ourselves.