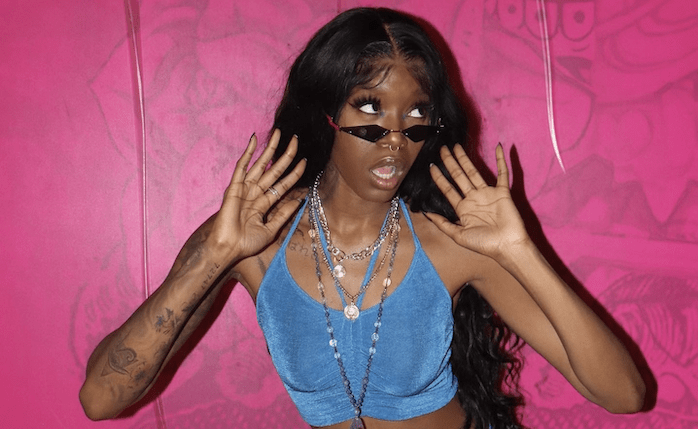 Viral Queer artist and genre-fluid enigma Cookiee Kawaii is back at it! The New Jersey-based artist teams up with Rocky Snyda for her new single, "Let Me Rock". This right here! It's a sultry slow it down and then ever-so-slightly speed it up sort of hip-rockin' groove. Left right, left right. Let's get it… No rush, though.
"Let Me Rock" is an invitation to feel every twist, turn, and tease of your wildest girl-on-girl fantasy. The track is part of Cookiee Kawaii's upcoming album Club Soda. Vol. 3 and immerses the listener in a euphoric world of seductive beats and velvety dipped sonics. Cookiee adds, the song is for, "people who love club music but want more of a R&B vibe." Her windswept vocals collide with a power-punching rap sequence for an intoxicating Jersey club meets R&B tinged banger that truly takes it over the top.
Cookiee Kawaii has received high acclaim from Vogue, Fader, BET, Billboard, XXL, Okayplayer, Flaunt, and New York Post to name a few. With more than 2 million monthly listeners and 1.4 million followers on TikTok, Cookiee Kawaii's single follows her recent release "Pretty Girl" which was added at #1 on Spotify's Global Club Music, #7 on Spotify's New Music Friday Dance, along with Beast Mode Dance, Dance Rising, and This is Frequency.
Cookiee Kawaii became known outside of New Jersey with the jittering, mattress-squeaking club track "Vibe" which went viral in 2019 and became even more popular the next year with TikTok users. Unrestricted by genre, the vocalist's stylistic range cuts across Jersey-club, R&B, and rap. The daughter of house DJs, Vanice Palmer was born into music and has been recording since the early 2010s. After she adopted her stage name, a display of her love for sweets and anime, she peeked above the underground New Jersey scene and now reaches club/dance fans across the globe!