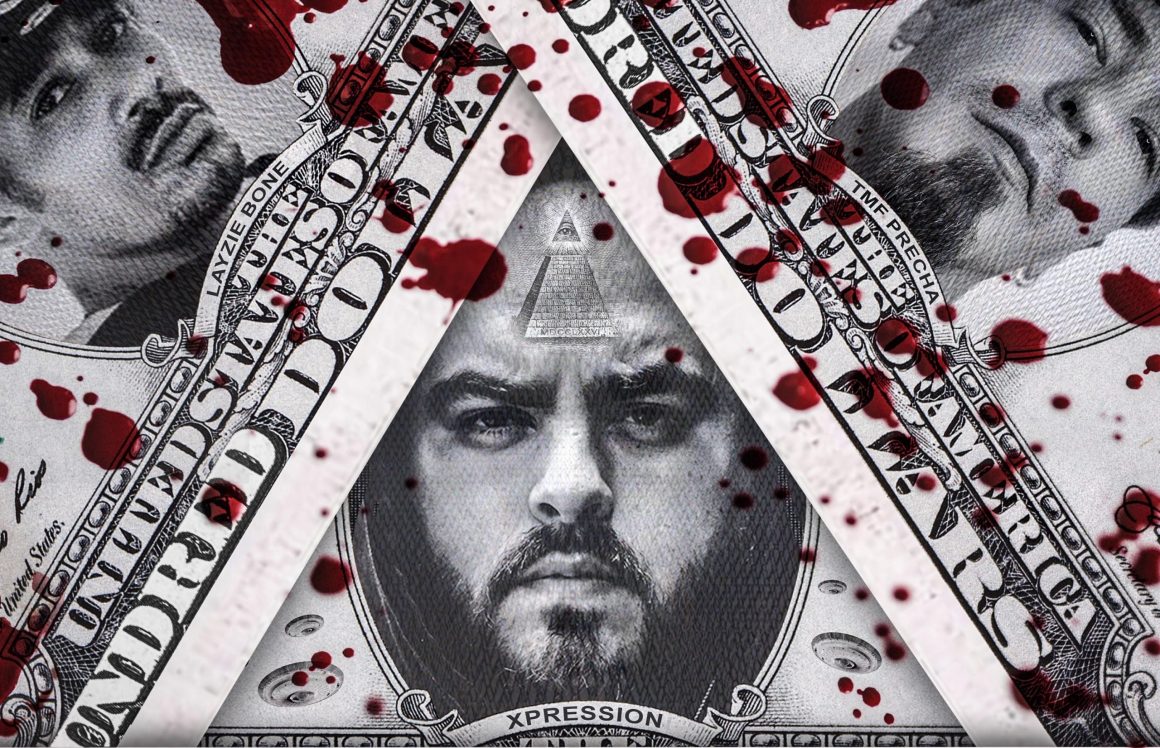 The 48 laws of Power are at the core of the industry and its harsh reality tool of manipulating principles occur quite more often than most tend to realize. Author Robert Greene gifts the 48 laws to any businessman, CEO executive, Musical Artist or Entertainer who's looking to advance up the ladder of success at a faster pace than the average person. Its knowledge provides insight that can mentally and physically elevate you on a different path if you utilize them in the proper ways.
Xpression also known as Xpression The MC hails from Indio, California home of the iconic music festival Known as "Coachella". Growing up in such a place where some of the most powerful musical influencers have gathered to party, perform, or just indulge in the chaos with fellow celebrities Xpression feels the need to assert himself and claim his throne. "Never Outshine the Master but I always do, conceal my intentions and follow through." In the new single 48 laws featuring Layzie Bone from Bone Thugs-N-Harmony and Tony M Fountain aka TMF Precha we hear all three artists make several references throughout the entire record from Xpression's verse to the hook, to TMF Precha to end of layzie Bone's part they all paint a very clear picture to those who are aware of the laws and where they stand with them.
On the production side they have Enrique Maldonado aka Bebo Beats who also produced "Lilith" by Xpression (featuring Bizzy Bone) another Member of the legendary rap group Bone Thugs-N-Harmony. Rikanatti from Shady Records (Eminems music Label) who mixed, mastered, and engineered the entire session, also Grammy and Oscar Nominated Producer Ronnie King who laid erratic Keyboards over the whole track.
Back in June of 2016 Xpression was referred to Ronnie King by Ruthless Records Co-Founder Jerry Heller who was communicating back and forth with Xpression on a weekly basis about potentially putting together an album with Ronnie that could break him into the industry sadly during this new collaboration that was brewing between them jerry passed away 3 months later. Douglas Young (NWA Promoter) and one of Jerry Hellers Best Friends invited Xpression to attend the funeral and pay his respects. After continuing to stay in contact and building a friendship with Doug Young via social media Xpression and his Mother Angelica Guajardo (former manager) were both invited to a special envisioning group event that took place in Los Angeles, Ca in January of 2017.
At the meeting they were divided into separate focusing groups to brainstorm on new ideas for an upcoming "Universal Hip-hop Museum" (UHHM) being built in the Bronx. Surrounded by others such as Krayzie Bone from Bone Thugs-N-Harmony, Tomica Wright (Owner and CEO of Ruthless Records), Alonzo Williams member and promoter of (World Class Wreckin Cru), DJ Battle Cat (Producer), Atron Gregory (Tupac Shakur's former Manger), and many more. Angelica (Mother and Former manager of Xpression) was placed at the table with Atron Gregory and a few others and Xpression was at the table with Tomica Wright, Nasty Nes (actor) and DJ Third Degree. Xpression kept in contact with Nasty Nes and DJ Third Degree and later on did a single "Every Life Matters" prod by DJ Third Degree that was placed on "The Write Path" album and Did some college radio promotions with Nasty Nes on Rap Attack Radio where Xpression's single "To The Top" featuring Kxng Crooked from (Slaughter House) charted in the top 5 nationwide for college internet radio stations. Angelica stayed in Contact with Atron Gregory the two became very close friends, eventually started dating and later became engaged.
Ronnie King played several keyboards on records for Tupac Shakur such as "Better Days", "How Do you Want It", "Until the end of Time", "Still I Rise" and more.
Keyboards on Bizzy Bone's album "Heavens Movie "working alongside multi-platinum songwriter and producer Johnny "J". One of Xpressions favorite Bizzy Bone records is "When Thugs Cry" that Ronnie also played keys on. Xpress and Ron have worked on several projects together over the years  "What You Want" featuring Mellow Man Ace , "Party Time" by shadoe (featuring Xpression, Ronnie King, Peter Dante (Actor from Adam Sandler movies), and Johnny Gillespie) that recently charted number 3 on the iTunes Reggae Charts nationwide, an amazing piano outro for xpression's last album titled "The Heart Beat "and now 48 Laws is here and will be followed up with another single titled "Chateau Relaxo" with Peter Dante, Xpression and Ronnie.
Tony M Fountain is a jack of all trades when he's not performing under the alias "TMF Precha" he's a very successful Entrepreneur and an amazing journalist who owns "Now Entertainment" and is always looking to collaborate with upcoming artist who have talent and are serious about their craft. He offers his platforms to those who wish to expand their reach and is extremely knowledgeable when it comes to marketing and promoting. Tony reached out to Xpression after a writer by the name of Christian Vind who was at the time working for Now Entertainment did an interview on Xpress. Eventually Tony had invited Xpression to be a part of Now Entertainment's first official podcast episode where the two chop it up back and forth heavy on some deep subjects one being the freemasonry society and how Xpression was getting involved in it a few years back. In the podcast Xpression also mentioned about possibly working with Layzie Bone and extended the collaboration to Tony to be on the Record and TMF agreed. Fast forward to present time after a dope collaboration on "Bent Rules" together they have teamed up once more to bring you 48 LAWS!!!
Listen to 48 Laws on Spotify, Apple Music, Pandora, Tidal and More.
Follow: Xpression
Instagram: @xpressionthemc
Twitter: @xpressionthemc
Follow: TMF Precha
Instagram: @tmfprecha
Twitter: @tonymfountain
Follow: Layzie Bone
Instagram: @thereallayziebone
Twitter: @layziebtnh
Follow: Ronnie King
Instagram: @RonnieKingOfficial
Twitter: @RonnieKinggroup