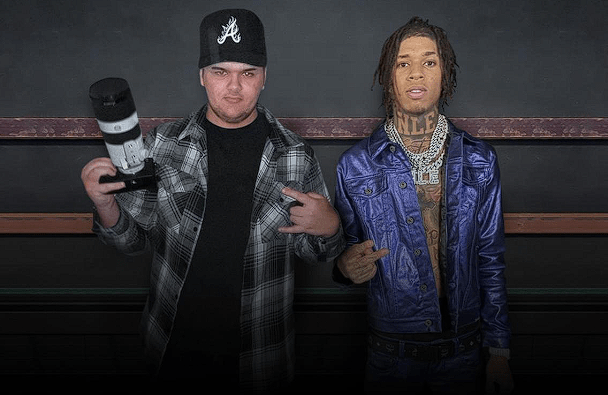 Hailing from humble beginnings in Boaz, Alabama, 20-year-old artist and entrepreneur Preston Adelman is making a name for himself and his platform. A creative child growing up, Preston has always been enthralled with the hip-hop scene, and in 2016, his ambition turned into experimenting with custom album covers for his favorite artists. He created an Instagram page where he posted his unique custom album covers, and within two months, quickly grew to 35K followers. After his success, Preston created "TroopDsgn,' the online name for his brand– settling on a new career path.
Preston says he really had no true reason behind the name "Troop"– he was simply typing different usernames until one was available. However, that mantra has quickly risen among the ranks of the sports design world. Preston has gone viral numerous times for his unique content. In 2018, he found success creating custom rapper x NBA 2k covers. In 2019, his editing series "If rappers played in the NFL" became a popular trend across social media. Recently, his "SmallAthletes" trend, where Adelman shrinks athletes to bite-sized portions, has been picked up by teams all around the NFL, NBA, MLB, and NHL.
On his social media pages, Preston creates unique album cover designs, unique sports content, and photography from many concerts around the US– flaunting over 120K followers across all of his social media outlets, where Adelman eventually hopes to turn his booming platform into one of empowerment for aspiring artists.
Preston has shot concerts for Migos, Lil Baby, Young Thug, Travis Scott, Gucci Mane, and many others. He recently created some cover art for his favorite rapper, NLE Choppa, for his song "No Love" that generated millions of streams. Their relationship started in May 2021, when Adelman met him in Memphis at Allen Iverson's all-star basketball game. Fast forward exactly one year later, in May 2022, Preston was invited to take photos at NLE Choppa's concert. Eventually, Adelman started working with NLE Choppa's label and created many cover arts for the rapper and his artists.
Currently, Preston works with Playmaker, a sports/hip-hop outlet with over 15 million followers across their platform. Adelman's role is to create winning/unique content and find new ways for Playmaker to go viral. By working with many record labels, Preston helps connect record labels to Gen-Z audiences Playmaker has helped push many of the top artists in the game today, including NBA Youngboy, Kodak Black, Logic, Roddy Ricch, DaBaby, 21 Savage, Trippie Redd, Tory Lanez, Eminem, Kevin Gates, Gucci Mane, and many more.
While there are plenty of photographers, artists, and designers out there doing what he is doing, Preston believes he stands out by his genuine desire to see those around him succeed. He believes the most important part of succeeding is building genuine relationships. Had Adelman not built relationships in prior years to gain the trust, he would've never had the opportunity to work with the top rappers in the hip-hop industry.