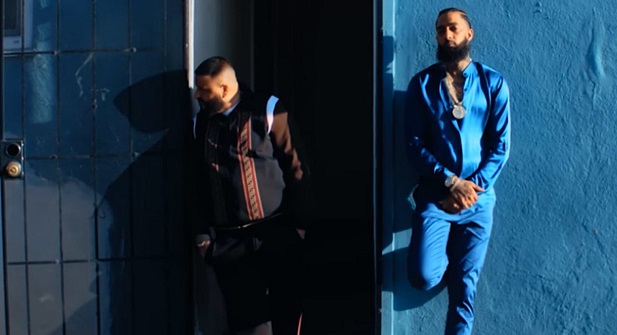 DJ Khaled's star-studded album Father of Asahd arrived Thursday night featuring "Higher," with John Legend and one of late Nipsey Hussle's final recordings.
Khaled promised us that he would drop the video for his collaboration with the late Los Angeles rapper the same time when he dropped his new album Father of Asahd, and he did just that.
In the clip, Legend plays a grand piano and sings on the gospel-tinged hook. "You keep taking me higher and higher/But don't you know that the devil's a liar/I know they'd rather see me down, put my soul in the fire." Nipsey Hussle follows with his rhymes about his family's struggles, temptations from the streets and ultimately inspirational growth. "Looking back at my life make my heart race/Dance with the devil and test our faith," he raps. "I was thinking chess moves/But it was God's grace."
Khaled also revealed that all proceeds from the sale will benefit Nipsey's two children, Emani and Kross. "The very title of the song reminds us that vibrating on a 'Higher' level was the essence of Nipsey's soul," he said. "It is in this spirit, of moving forward, of preserving his mission that I, my co-writers, producers and label partners are donating 100% of all our proceeds from 'Higher' to Nipsey's children, Emani and Kross."
Khaled plans to drop seven more visuals off Father of Asahd over the next several days for his collaborations with Cardi B, 21 Savage, SZA, Travis Scott, Chris Brown, Meek Mill, and more.