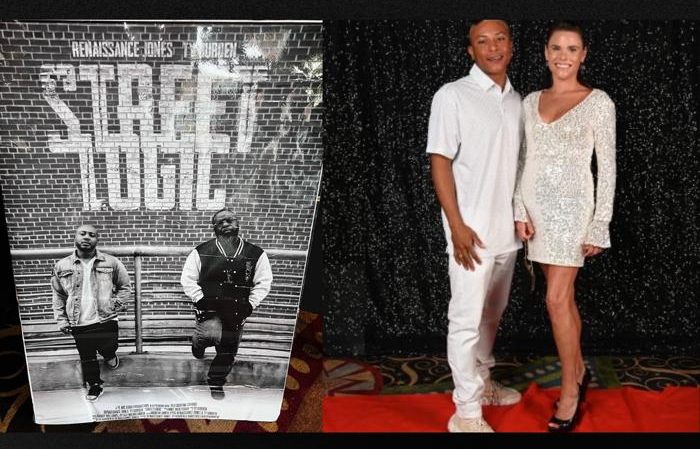 Music producer Thousand Times appears on the red carpet for the Street Logic film premier with visual artist Jivey Star.
Nineteen years after sitting down to make his first instrumental, Thousand Times lands his first production in a feature film. The song "You Belong" written & performed by vocalist Mystique produced by Thousand Times was included in the soundtrack to the movie 'Street Logic' by Ty Durden and Renaissance Jones.
The film is distributed by Maverick Entertainment Group which was founded in 1997 and is a leading distributor of niche independent and Urban content. Having released more than 900 films over the past 25 years, Maverick currently controls the world's largest library of feature length Black Cinema. In addition to funding and producing originals, Maverick releases over 100 movies a year and distributes physically and digitally worldwide.
Street Logic is a gritty film about two friends who beat the odds to escape the street lifestyle. Street Logic was filmed in Charlotte, NC and features local influencers, musicians, and other prominent creatives. Street Logic will be available on Amazon Prime, Roku, RedBox, Tubi, Samsung, Peacock, LG, Vizio, Vudu-Fandango, and many more. Maverick also connects with its consumer base through DVD, Video-on-Demand, and streaming.
Thousand Times has had a phenomenal year from collaborating with multi-platinum producer 'Nico Nice Wit It' & Grammy winner 'Wonder Arillo' earlier this year to growing his company East Side Edibles to a powerhouse in the cannabis industry. Thousand Times was brought into the Street Logic project by international tastemaker 'Reecee Raps' after having first created the track with Mystique over four years ago at Soule Jukebox recording studio.
Follow Thousand Times on IG @
https://instagram.com/_thousandtimes