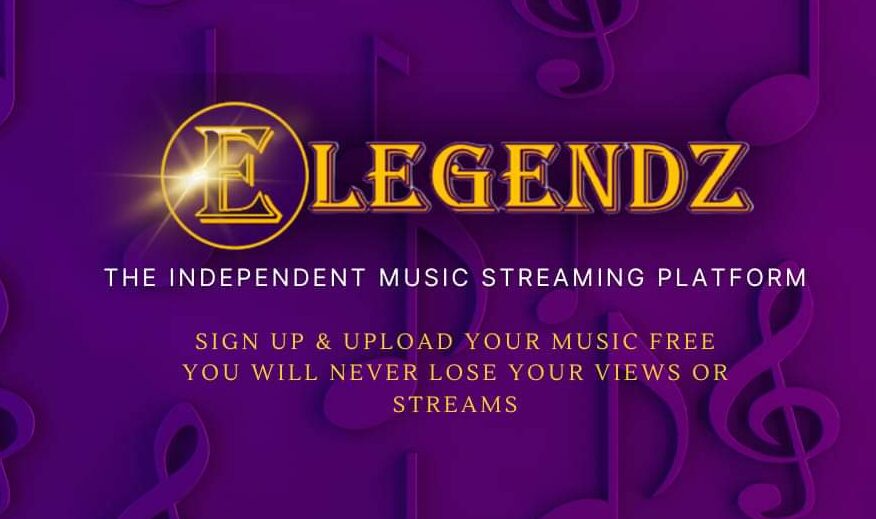 E Legendz is a Independent Music Streaming Platform that's like no other. It provides a stage for musicians who specialize in alternate rock, country, rock & roll, hip hop, pop, pop rock, jazz, gospel, soul, and reggae. It's also beneficial to music producers, record labels, and music video producers. What makes E Legendz so unique in the independent music industry is any musician can either upload their videos or, if they have a YouTube channel with their music, they can copy their YouTube or SoundCloud link and the video will play.
Also when uploading a video the user can upload a music file so that their songs can be added to a playlist or sold to fans. When uploading a video or sharing the link, users can choose to tag other users that helped make the song or are featured in the song's video by simply putting the "at sign" (@), and the user's name if they are on the platform. If you add a user to your video, it will also display on their profile as well as yours. This will give you recognition and other users a chance to potentially work with other artists, producers, and labels.
For those saying that YouTube has more people on that platform, that's correct. However, YouTube is not made particularly for music makers and your potential fans have to maneuver through all other non-music videos. E Legendz gives users a list of choices on sign-up so they can pick what types of music they like. This means they will not have to see music they don't particularly prefer, and this can be updated on the user's profile at any time.
Currently, users with the most likes on their video in each Category will be selected on the 1st of every month for the previous month and showcased on the Legendz Page. In the near future ELegendz.net will have 1st, 2nd, and 3rd place for the most liked videos regardless of the category in which they fall upon & offer a cash prize for those places.
To provide security amongst users on the ELegendz.net platform instead of having an instant messenger system when a user is logged in they can go to another users profile and send that user an email. This system was created to help keep spam and malicious links from hacking users devices because most email systems already has these technologies built in. This would be great for getting Artists booked.
ELegendz.net will make money from advertisements put up from small business owners that will be displayed at the top of the page. The advertiser will have a scrolling message from right to left with their logo, business name, (optional) business phone number, and business address. This works particularly well for the advertiser because the area that the advertiser chooses to advertise in will not allow anyone else to advertise in.
The advertiser pays $2 per zip code in a city of their choice in the US & they have undisputed rights over that city for an entire week. The advertisement will only show to the people in that city that the advertiser chose to advertise in. For investors interest it is 82,500 zip codes in the US meaning ELegendz.net would make up to $165,000 a week (not including the percentage of song sales). Of that $165,000 top performers will receive a percentage of that.