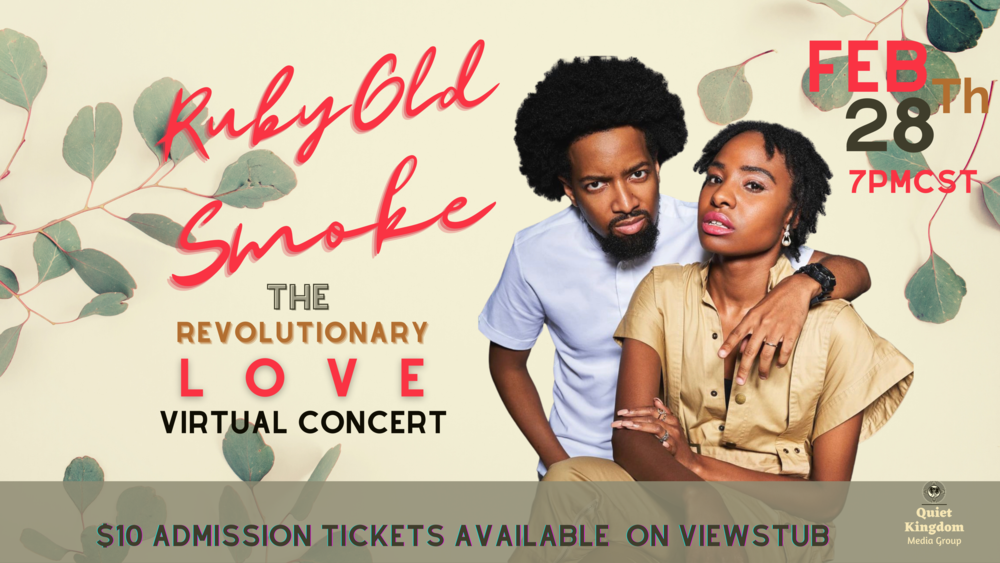 Feb 16, 2021, 18:57pm EST — Pop music duo RubyGld Smoke is hosting a livestream concert on February 28. The show will be an intimate virtual concert performance featuring songs from their debut album Revolutionary Love. RubyGld Smoke debuted last year with a series of gorgeously romantic singles introducing the duo as a unique mix of pop and R&B. Together, the couple has transformed the way fans see creativity – from films to songwriting, RubyGld Smoke does it all.
"We want to give our fans an experience that is safe, yet captivating as if they were with us," says the duo. "The Revolutionary Love Virtual Concert is a kickoff to our tour. We can't wait to share the love with the world!"
Revolutionary Love takes listeners on a sixteen track journey of the couple's love story as the two produced and wrote the album together in their home studio during the COVID-19 pandemic. Releasing under the duo's own label, Quiet Kingdom Recordings, the album's title harkens to well known African-American philosophy, which states the most revolutionary thing a black man and woman can do is love each other.
Fans can purchase tickets to The Revolutionary Love Virtual Concert HERE. 
Entertaining the masses with their retro pop music and making marriage look sexy again is only a slice of what this iconic power couple has to offer. Terrance and Dani Jo Williams (RubyGld Smoke) are the entrepreneurs of Quiet Kingdom Recordings and Quiet Kingdom Media Group (film company). The duo is also the founder of Symphony Of Change Inc. – an arts education organization dedicated to equitable arts enrichment programs throughout the US. When Dandria Dani Jo Williams met her husband T. L. Williams in early 2014, it was clear from the jump they were made to do something big together.
Their undeniable chemistry was evident even as T. L. embarked on an initial solo career, garnering over 3 million streams with hits like "Gettin Mo Money Than You" and "Melanin". Meanwhile, Dani Jo was a behind-the-scenes contributor through the entirety of T. L.'s 6 album solo run, co-writing songs and adding vocals. The couple, feeling like it was finally time, has now come out front together with an eclectic mix of pop-soul energy a la "Rose Royce".