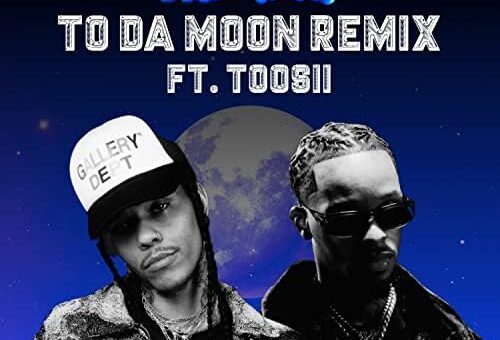 The music industry is constantly witnessing the emergence of new and promising artists. And, now, it seems that Milwaukee has produced its own rising luminary in the hip-hop scene – none other than PartyAt4. His breakout banger "To Da Moon" has gained massive popularity, peaking at Billboard Top 30 Rhythmic Charts. With the rave return of his official remix, the trailblazing talent taps Toosii. In doing so, it looks like PartyAt4's career is set to soar even higher. Let's deep dive into PartyAt4's artistry, career trajectory, and future endeavors!
PartyAt4's "To Da Moon" remix featuring Toosii is nothing short of a masterpiece. The track expertly blends PartyAt4's singing, songwriting, and production skills with Toosii's fluid raps. The result is a mesmerizing and soul-stirring mix that will make listeners pulsate to the beat. The song is an ode to PartyAt4's "Day ones," the fans who have supported him since the beginning, and a testament to his dedication to his craft.
Partyat4 Is On A Meteoric Rise with "To Da Moon" Remix
However, PartyAt4's creativity extends beyond just music. With his fashion brand, "Tomorrow Dies," he is set to make waves in the fashion world too. The brand exemplifies the youthful, fresh, and individualistic spirit that PartyAt4 embodies. The line features bold and edgy pieces that will appeal to fashion enthusiasts.
PartyAt4's talent and artistry have not gone unnoticed, and he is set to join Jacquees for the 'Sorry For You' tour which started in September. The tour will span across 29 stops in major cities such as Detroit, Los Angeles, Orlando, Austin, and New York. The tour will showcase not only PartyAt4's singing and rapping abilities but also his performance skills and energy.
Last but not least, PartyAt4's mixtape How Dare You is set to arrive. The project is expected to showcase PartyAt4's lyrical prowess, with songs about topics such as love, heartbreak, and ambition. The mixtape will be available on all major DSPs and LiveMixtapes. Nonetheless, PartyAt4 is an artist to watch! His talent and dedication to music, fashion, and performance are sure to make him a force to reckon with in the music industry. The 'Sorry For You' tour and How Dare You mixtape are just a glimpse of what PartyAt4 has in store for us. So, stream the official "To Da Moon" remix featuring Toosii here at 24Hip-Hop! Get ready to witness PartyAt4's meteoric rise to success.