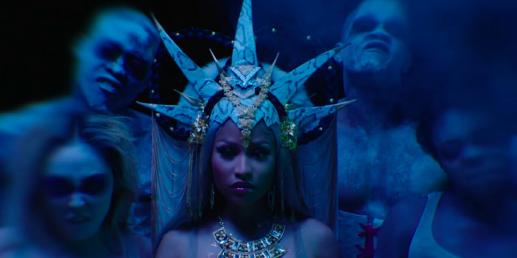 Nicki Minaj Hard White Video
Last Year, Nicki Minaj dropped Queen, which was her triumphant return to the game. Nicki returns for the new year with a new video for "Hard White," a standout off last year's Queen album.
Directed by Mike Ho, the visuals for "Hard White" use religious symbolism to paint a haunting backdrop for Minaj.
The Queen rules her kingdom of darkness in the sinister clip. The self-proclaimed "bad guy" takes her seat on a throne while presiding over her zombie-like subjects.
She switches up her look several times, donning a metallic outfit in one scene and a snakeskin headdress in another.
"Hard White" is the latest Queen song to receive a visual following "Ganja Burn," "Barbie Dreams," "Bed," "Chun-Li," and "Good Form."