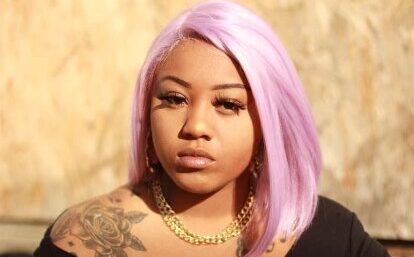 Emoni Nycole Mills known professionally as Moni Meechi, is an American Hip Hop artist, producer, and songwriter from Raleigh North Carolina.  Early on in her life, she was introduced to music by her older cousin and the rest is history.  Moni Meechi has been expressing herself vocally in any way imaginable.  Hip Hop music became her outlet in 2014 and since then has been a massive part of her life as well as the number one tool she uses to GET YOUR ATTENTION!
Performing with artists such as Toosi2x, Jhonni Blaze, and Hurricane Chris she is no stranger to the stage.  Her performance at Raleigh's "919 Day" festival in 2020 was a pivotal point in her career.  Since her performance in 2020 Moni Meechi has performed throughout the south gaining fans and being recognized by many as the new "Queen of Trap Music."  After listening to her straight-to-the-point delivery she holds nothing back from her fans.  Being completely honest is what music lovers around the world have grown to love in a short period of time.
Determined to be a winner in this music industry Moni Meechi  released her new single "Huh What" that seems to be growing popular in the hip hop community.   Once  the beat drops it's guaranteed to put any listener in a vibe.
Be Sure to tap in and check out the latest single available on all digital platforms.
Stream song here: https://open.spotify.com/track/0iY06Fk1sIdkDZPss8UblD?si=0072d47866904f0d
Social Media Links :https://www.instagram.com/monimeechi/
https://twitter.com/monimeechi
https://www.facebook.com/officialmonimeechi