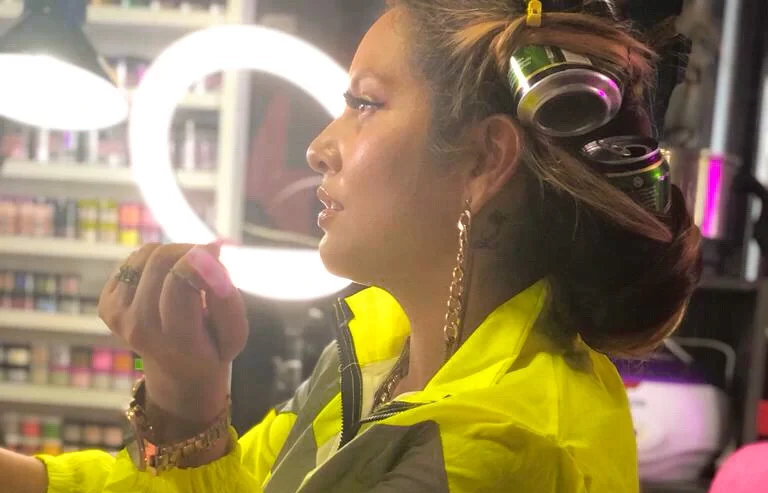 La Beba Sajori, as many already know her, announced this Friday October 14th will be full of reggaeton vibes because she comes with all charged batteries to make this release, the single that everyone is talking about.
Always hand in hand with BR Music, the Colombian production company that has been its ally throughout this year 2022, now Less Sajori surprises us, with new rhythms and a video clip with much more movement.
With "Pretendientes" and "Colorin Colorado" 2 songs by La Beba, which although with Arabic influences and different rhythms but always with the classic dembow of reggaetón, did not become in ''perreo'', Sajori, the latin salvadoran girl, told us that many of her followers asked her for something more intense, something much more for the party, a little more danceable and her fans wanted to listen to her with that and that's how the idea of ​​"Traviesa" was born, a lyric that always deals with female empowerment and how women are ready for ''perreo'', how they dress up, make up and prepare every weekend night to go to dance and look pretty for themselves, and not as many could think about, to please and like them.
As Sajori tells us, she had to delay the release of this single a bit, since the production has taken a long preparation, the selection of the beats, the lyrics and the video clip, which took five days of filming, in five different locations, all of this in the own words of Less, with the sole porpouse of pleasing her public and always giving them the best possible quality and what they want to listen and watch.
We asked Less if this would be the last single in this year and with the one she will close this 2022, but Sajori tells us that she has plans for one last song which is coming this December, song which La Beba Sajori will also surprise us with new variants and showing a little more of her vocal skills and her characteristic color of voice
Don't forget to follow Less Sajori on her official accounts,
https://www.instagram.com/lesssajori
https://www.youtube.com/channel/UCbOCY5hTtw0LtwePGPc4ZFw