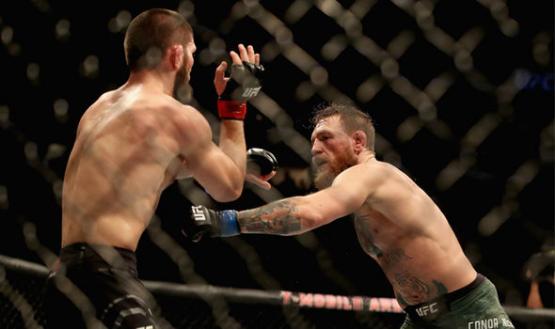 Watch McGregor and Khabib UFC 229 Fight Full Video
After a weeks' worth of pointless promo, Conor McGregor was back at the UFC for his latest hype-fight, as he took on the undefeated beast, Khabib Nurmagomedov.
Prior to the event, the brand even had Drake come out to support Conor, as he was present for Friday's weight-in and the main event Saturday night. As expected, Conor lost to Khabib in submission form, from a rear-naked choke to retain the UFC Lightweight Championship.
However, the talk of the night, was what happened after the fight end. Fellow fighter, Dillon Danis, was ringside, as Khabib literally jumped over the cage for an altercation after exchanging words.
This led to Nurmagomedov's team sneaking in the ring, trying to catch Conor slipping; as the Irish fighter was lucky enough to protect himself. Considering Conor didn't get in trouble with the company for throwing a dolly at UFC 223, we're hopeful they don't punish Khabib.
Take a look at media below from this fight and it's aftermath.
A live look at Drake when all hell broke loose at #UFC229 pic.twitter.com/CKftl8Oh4U

— OnSMASH (@OnSMASH) October 7, 2018
new footage shows Conor McGregor throwing first cheap shot on trainer of Khabib 👀 pic.twitter.com/WkQZyNbSIx

— LakeShowYo (@LakeShowYo) October 7, 2018
All hell breaks loose at #UFC229 pic.twitter.com/F4G2r00jdl

— ZombieProphet (@GIFsZP) October 7, 2018
Exclusive video from our own @alex_prewitt on the fight that occurred in the crowd. pic.twitter.com/byDpn4tuwh

— Sports Illustrated (@SInow) October 7, 2018
Wait a minute.. 👀 watch this again fam. #UFC229 cause.. yeah.. I'm sayin.. pic.twitter.com/7wRRlnHYcH

— King OG Brigante (@BishopBrigante) October 7, 2018
Dillon Danis escorted out by police after a wild post-fight brawl. #UFC229 pic.twitter.com/1tNamWaJ6q

— Shaheen Al-Shatti (@shaunalshatti) October 7, 2018
Here's the brawl with Khabib jumping the fence and going after Danis. You'll see somebody go after McGregor in the cage. This is bad. pic.twitter.com/IpOZiZy5vC

— Andreas Hale (@AndreasHale) October 7, 2018