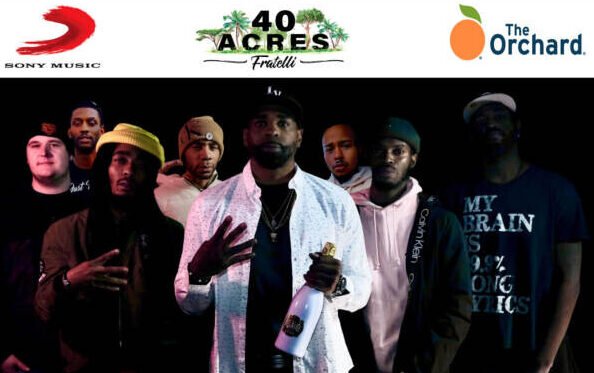 G Premacy, an established & highly talented Hip-Hop artist, along with 2Gun Yvng, a gifted & relentless rhyme slayer himself, have come together for a new collaborative EP called "Fire Drill", released via G Premacy's record label, "40 Acres Fratelli", and doubles as the label's debut release through the Sony Music-owned entertainment company, "The Orchard". This brand new partnership features digital distribution of all singles and projects submitted through the "40 Acres Fratelli" imprint and will aid greatly in the reach and overall development of the young record label.
This project is now available on all major DSPs and has been greatly received thus far, with the title track, single, garnering over 750 playlist ads since its release.
On this EP, G Premacy and 2 Gun effortlessly float to a crisp, yet smooth delivery of both, entertaining and thought provoking bars, all served over melodic & impactful production. The juxtaposition of their vocals interwoven into the various instrumental styles on this project portray just how well seasoned these two artists are and their unique ability to create moments that most others aren't capable of discovering.
The unmistakable, passionate tone shines strongly during the guest verse from fellow 40 Acres artist, Manhattan Zo, on track #3, "All That I Got", demonstrates a small piece of the dynamics carried within the team as a whole. This debut is a gigantic move for the team, and the Sony Music/The Orchard team seems to be the perfect match for G Premacy and this talented collective. 2Gun and G Premacy have reached an extremely sought-after milestone with this release – a major partnership. This collective will be on the radar of many industry heavy-hitters for years to come. Follow along on their journey on their social media accounts and become ONE with the 40 Acres Fratelli "Familia".
FIRE DRILL EP Out Now!
Link: https://orcd.co/4z88blg
This is just the beginning for the fresh label consisting of veteran lyricists such as G Premacy and 2 Gun Yvng. In addition, comes a collective of extremely talented individual artists in their own rights, including Per DM, Manhattan Zo, Prince Papi, and Spitta Mac on the roster. When it comes time to record new music, 40 AF typically turns to their go-to producer, James Cherry, for those hard, gritty, yet bouncy instrumentals. When a song calls for a bit of a different taste the team often enlists the help of Acqueed "Self- Paid" Robinson and, 40 Acres affiliate, Spencer Vega to keep listeners palette developed Taireen Walcott, aka "Emir Da God" is the label's intern and another great rapper of unlimited potential. Stephen "TW1TCH" Fogarty, is the label's social media strategist and growth consultant, and LaPriest Robinson does illustration/assists in merch design. Many of the teams amazing photos/videos are manifestations of Anthony "Ace The Outsider" Pierce, and Kenneth "Chu" (KD) Dim is the label's C.O.O. and Manager for G Premacy. All of these insanely talented individuals come together to form an ecosystem that supports some of the most artistically agile talents in the game!
40 Acres – @40AcresFratelli
G Premacy – @G_Premacy
2Gun Yvng – @LoyaltyLifeYvng
Manhattan Zo – @Manhattan_Zo
Per DM – @PerDMMusic
Spitta Mac – @Spitta_Mac
Prince Papi – @PrincePapi777
James Cherry – @xCherryMusic
Emir – @TheRealEmirDaGod
Chu – @Macckkenn
ATO – Ace_TheOutsider
LaPriest – @theLRAcreations