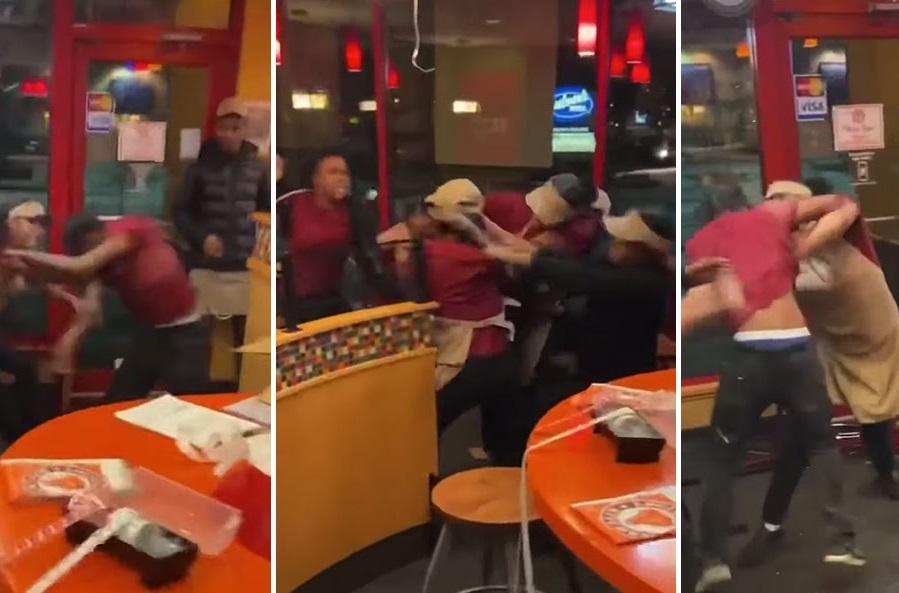 Over half a dozen employees of a Popeyes in Wisconsin have been fired after they were filmed fighting. The brawl broke out at the branch near 76th and Good Hope Road in Milwaukee on Wednesday evening, while the restaurant was open to the public, Fox 6 reported.
Customer Richard Fourté spoke to local Fox 6 Now, revealing what he saw leading up to the incident. He explained, "I heard one of them yell, 'It's a fight.' They ran to the back by the grills, OK. Now, there was a fight back there. I didn't get that one on tape." Fourté then pulled out his camera and recorded the second fight, which shows male and female employees slapping, pushing, and punching one another, while another employee jumps over the counter to join in on the violent incident.
Police responded to the scene, but no arrests were made. It's still unclear what started the fight.
Earlier this month, a 55-year-old woman was body slammed in the parking lot of a Tennessee location. In another incident, a customer and employee were seen on video throwing trays at each other at a San Antonio restaurant. Before that, a man was fatally stabbed for cutting in line at a Maryland Popeyes.
in recent news, Gunna Blasts Popeyes: "These P***y A** Chicken Sandwiches Ain't Nothing".