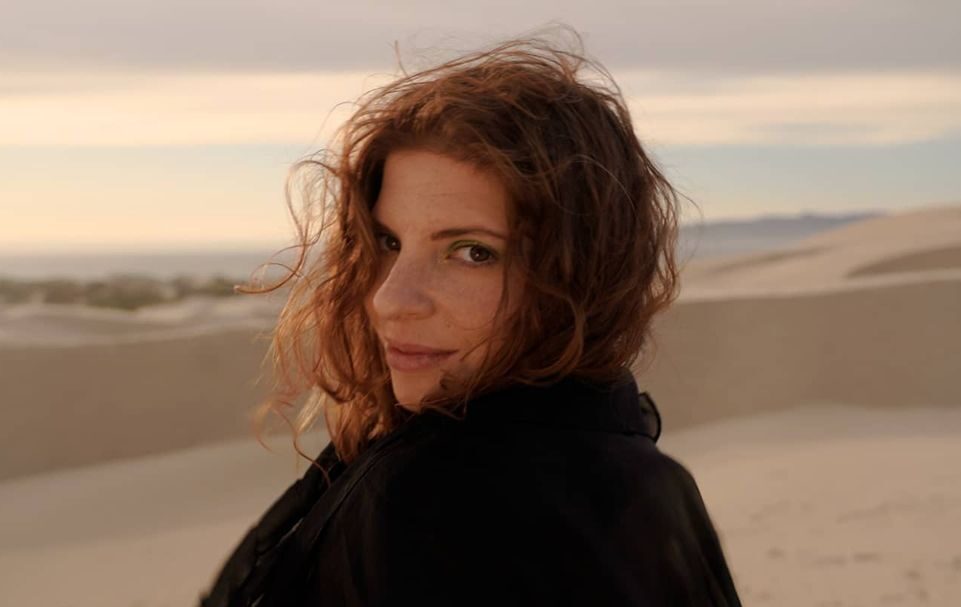 Dark-pop singer-songwriter Ashley Zarah has collaborated with Miami-based, Venezuelan producer Eugenio "GVLA" Moleiro to create Mad In The Travel – a desert-themed electronic upcoming EP. Featuring three tracks, including the recently release "Ashes In The Sea", Mad In The Travel explores Zarah's deep-rooted connection to the desert and her family history as she experiences renewal and rebirth in her own life. "There's this notion that those who wander the desert by their lonesome eventually go "mad in the travel." Exhausted, hungry and thirsty, delusional, desperate and alone – it may sound absurd to say, but I believe those are the times we see things the clearest," says Zarah of the EP's inspiration.
"We're stripped to our most naked, most starved version of ourselves, and there is no questioning what we want, who we are, and what we seek. It is in our loneliness and adversity that we rediscover ourselves." Zarah also says she's always been fascinated by the desert and its power and hypnosis of 'nothingness', but what makes her cling to it the most is her family history. "My ancestors have called the desert their home for thousands of years in the middle-east, and though I was born and raised in America, I somehow continued this tradition in the Mojave Desert of Southern California as if it were pre-ordained."
Mad In The Travel is ultimately about transitions – as if emerging from an old layer of skin. For Zarah that meant shutting out the noise to really hear, erasing the distractions no matter how beautiful so she could really see what was in front of her, and being alone to feel and learn freely. Featuring three distinct singles, the EP showcases Zarah in a bold way as she unabashedly lets her voice be heard through the lyrics and dynamic soundscapes that she has created. Leading off with "Ashes In The Sea", the production instantly exudes electronically driven spiritual and tribal senses. A Persian-influenced song about rebirth and resurrection, "Ashes In The Sea" allows listeners to feel comforted to be themselves and experience the journey of personal transformation, in whatever way they need.
Where "Ashes In The Sea" is in a spiritual sense about rebirth and resurrection, "Shadow" is in the same sense about abandonment and detachment. Zarah says this was particularly written about feeling abandoned spiritually and seeking guidance, begging for any sign from the Universe that she was still being watched over. This feeling is exemplified in the soft piano backing and vulnerable vocal performance portrayed by Zarah. "Mojave" is featured between the two tracks and sees the artist boldly exclaiming that she doesn't care what others think – she's confident in herself as she is. Not hiding behind anything or anyone, it seems as if Zarah has fully accepted her new life emerging from the desert.
Ashley Zarah is an Iranian singer/songwriter and Dark-Pop performer hailing from Los Angeles, CA. Merging millennial pain and pop culture, she is convincing pop listeners to feel something honest again, the way she felt during the emo wave in the early 2000s. As a young kid who struggled to identify with those around her, Zarah decided to invent a space of her own; one that welcomed color into life's darkest truths; hence, the home of Dark-Pop.
Despite stemming from a background of non-musicians, there was no shortage of music in the house. Zarah was raised on artists ranging from Pink Floyd, Madonna, and Natalie Cole to Iranian stars such as Sima Bina, Dariush, and Haydeh. Scouting on her own, she would discover even more eclectic inspirations like Christina Aguilera, Linkin Park, The All-American Rejects, Justin Nozuka, and LIGHTS; all who inspired her to pick up instruments and gear to perform the songs we hear today.
While on scholarship at the highly prestigious art institution, Berklee College of Music, she revealed herself to be both a prolific writer and expressive vocalist; though mostly sought after for her relatability and insightful songwriting. She has since been featured on NPR's "Buried Treasures," BuzzMusic LA, GirlTalkHQ, Authority Magazine, EDM Nations, and twice debuted on the world-renowned music editorial, The Hype Magazine. 
An advocate for mental health, suicide prevention, and gender equality; she is on a mission to teach and heal her generation to speak their truths and enjoy their lives rather than simply surviving them; proving to audiences that no pain is worth the disposal of a life.
Connect with Ashley Zarah on social media for updates on new music, videos, and more; @ashzarah