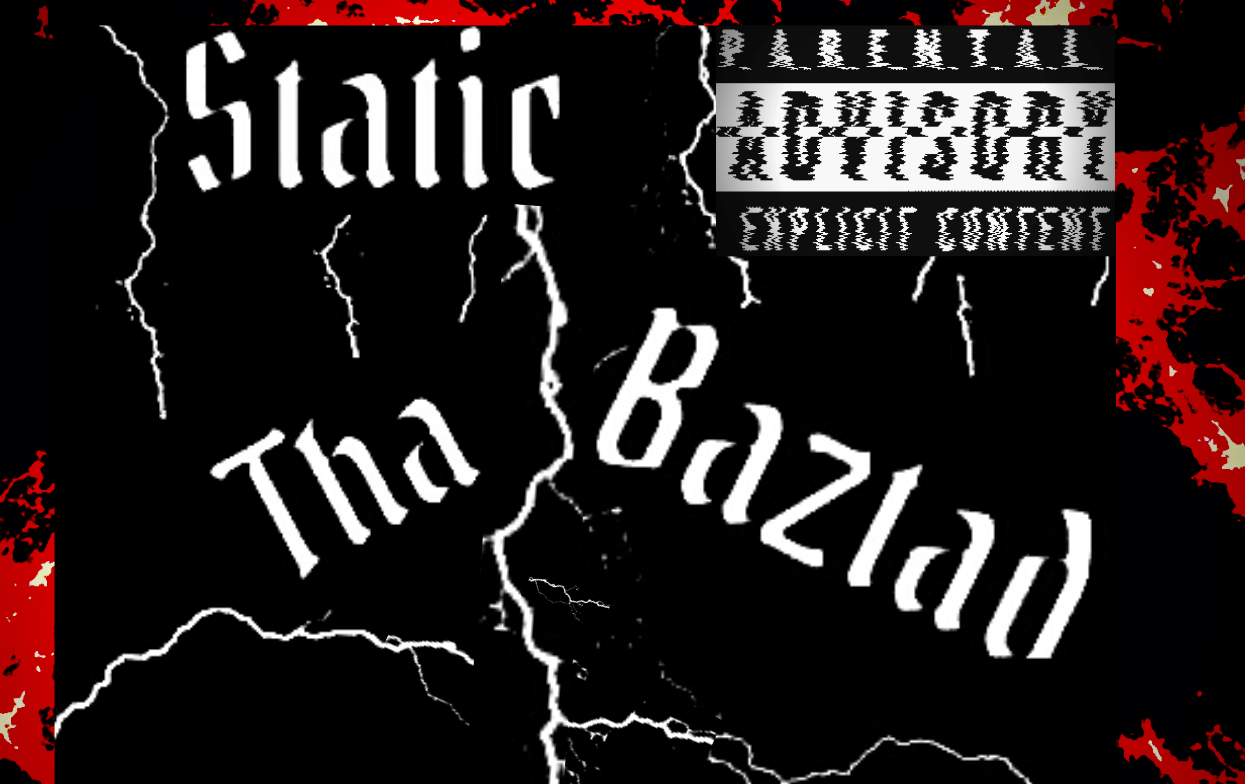 Q: What is your name/stage name?
A: Tha Baztad.
Q: Where are you from?
A: Michigan.
Q: What do you do?
A: I write lyrics and record music.
Q: How long have you been making music?
A: I started writing lyrics when I was 13 years old, I'm currently 20 years old so about 7 and a half years.
Q: Who's your biggest inspiration?
A: My family has been My biggest inspiration since day 1.  They always push Me to keep going which helps Me to push Myself to keep going so I can continue to do this for Them and for anybody who may connect with what I say.
Q: What genre of music do you create?
A: I make Hip-Hop, Rap Music and dabble in a little bit of heavy rock.
Q: What was it like working with artists You've collaborated with?
A: I've collaborated on a few tracks with an artist out in Missouri who goes by NATEDOGGYSTL.  The very minute I started working with Him, I KNEW We were gonna put out some bangers which We did and it was dope.  He was the very first artist I've had the opportunity to collaborate with and it was decent.  He's a genuinely good guy and good at what He does without doubt, said with no hesitation.  Other than that, I'm working on a track with Kung Fu Vampire.  He's a very respectful person and a very respectable businessman.  It's been an absolute honor to have the opportunity to work with Him and I can't wait to release that song for sure.
Q: What are some features you have?
A: NATEDOGGYSTL and a Kung Fu Vampire feature in the works!
Q: What are some features you want to get?
A: I think it'd be dope to work with Vinnie Paz, Tech N9ne, RJ Payne, G-Mo Skee and/or R.A the Rugged Man.  They have some of the tightest pen game ever witnessed.  From lyric construction to flow to cadance to deliverance, each of them are as best as it comes in every one of those categories.  I think to work with any of them would actually be a dream come true.
Q: Who's one person, dead or alive, that you'd want to work with?
A: ONE PERSON? Y'all got Me MESSED UP hahaa. I'm torn between RJ Payne and Tech N9ne.
Q: Are you signed to a label?
A: Not currently.
Q: Do you want a record deal, a distribution deal, or none?
A: Whatever gets Me paid for My music and allows Me to create more.
Q: Who are your biggest supporters?
A: My biggest supporters are My Mom, My Dad, My Sister, My Brothers and My significant other.
Q: Where did your name come from?
A: Trial and Error. At first I went by Static because that's the name a couple old homeboys gave Me (R.I.P Eric) and eventually I decided it didn't stand out nor portray My style well enough, so after a long time of brainstorming I thought, "Something with bastard in it" because the state of Michigan messed up My birth certificate when I was born and left the Father space blank. A couple of days had passed and then I finally wrote it down for the first time above a new page of lyrics I'd written. "Static Tha Baztad". I still go by that to honor the name given to Me by My homie, I just shortened the official name to, "Tha Baztad".
Q: What are you currently working on?
A: I'm working on a new 5 track EP (6 including an outro).
It's a short album called "I's Uv Eyesolashun", self produced through and through. It's 9 minutes and 38 seconds long. I put My heart and soul into the words that I say in this EP so please listen to the lyrics when You hear it.  Other than that, I'm currently working on a new single titled, "Brain Drain" using a beat produced by Anabolic Beatz which I'm going to release before I drop the EP.
Q: What is your latest release?
A: My latest release was a song I did called, "Do You Wanna Die?".
Q: When is your next release?
A: I'm planning on releasing the Single by December 14th and then I'll be releasing the EP 10 days later.  I'll also be working on a new single to release on January 1st so watch out for that too.
Music links:
Instagram: https://www.instagram.com/thabaztad/
Twitter: https://twitter.com/ThaBaztad
Facebook: facebook.com/thabaztad/
Youtube: https://www.youtube.com/@thabaztad
Apple Music: https://music.apple.com/us/artist/tha-baztad/1632712265
Pandora: https://www.pandora.com/artist/tha-baztad/ARmnzkZ9PJd54kP
Spotify: https://open.spotify.com/artist/5mgdeIvmMSUZwxIAZqUnD0
All Platforms: https://hyperfollow.com/ThaBaztad