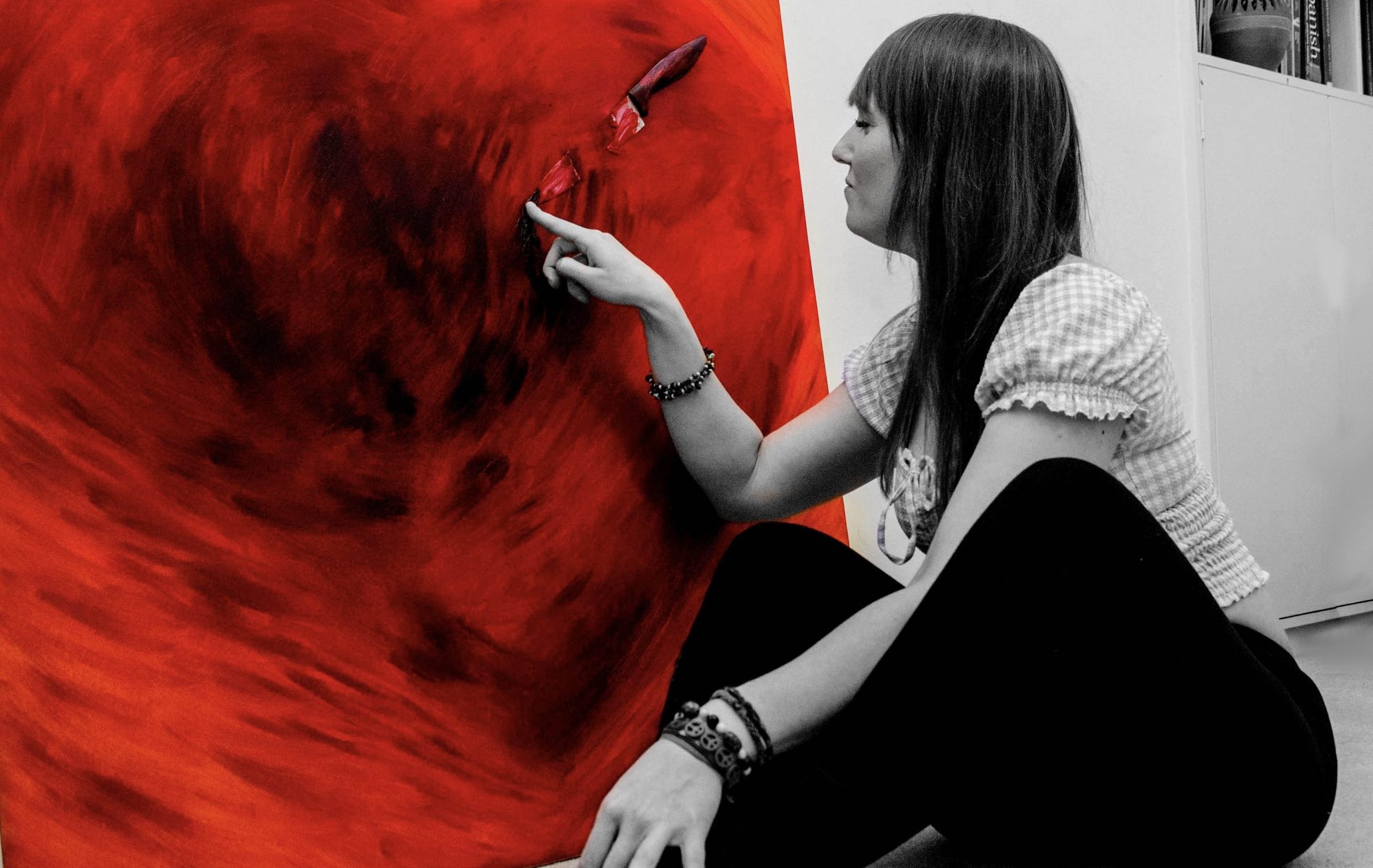 Art galleries were among the first venues to close their doors when the  pandemic hit. The lack of a means of selling their paintings hindered artists  who relied on these venues to display their work. Then Bolli Blas entered the  picture.
The Polish artist Bolli Blas will be featured in SKT's online show Fake Space.  As her paintings were featured in our last two exhibitions in London, "Art at the  Theatre" and "Art Is Why I Wake Up In The Morning" at Paper Dress Vintage,  this is Bolli's third collaboration with SKT Gallery. One of Bolli's paintings was  displayed at Paper Dress Vintage directly next to the shop's front window,  where it attracted the attention of numerous onlookers.
Bolli was born and raised in Poland's Poznan before relocating to the UK in  2006. She recalls having two paintings by well-known Polish painters  Malczewski and Wyspianski in her childhood home, which inspired her love of  and respect for art.
Career in painting
Landscapes and still life subjects were the subjects of Bolli's classical  paintings when she first started out as an artist. However, she wanted her  paintings to reflect happiness and harmony after abandoning her corporate  career and seeing South America. With their large eyes staring directly at you,  Bolli's infantile figurines have a tendency to catch people's attention. Eyes,  lies, and surprise, according to Bolli, best describe her writing.
By making her new works more representative and tackling concerns of  equality and gender, Bolli is now advancing her discipline. Jesus, who appears  frequently in her writings, is someone whose gender can be interpreted as  either male or female.
Time of Exhibition
In our online exhibition "Fake Space," SKT is thrilled to present her pieces  "Beginnings," "The Summer of Love," and "Wilderness of Tomorrow."  Beginnings depict two floppy-eared characters holding hands. It nearly feels  like hypnosis when you stare into their large, dark eyes for a while. The focus  of "The Summer of Love" is once again on the two characters' eyes. In reality,  due to the background's color tone blending with the characters' outlines, the  bodies are hardly discernible. It's possible to see something extremely similar  in "Wilderness of Tomorrow." These three paintings' titles represent promises  and hope. They advocate for a world in which people coexist peacefully.
Bolli and everyone else was taken aback when the epidemic broke out and  the galleries shuttered. "I understood that I had to take action. I understood  that simply adding my artwork to an internet portfolio wouldn't be sufficient if I  still wanted to display it. I had to generate interest. She joined forces with  others to create ArtsyNFT, a brand-new online gallery of art. Customers can  purchase copies of the artist's work online thanks to the usage of non-fungible  tokens (NFTs). No matter who purchases the art, other people can view and  download it, according to Bolli. "However, the owner has bragging rights and a  means of proving that they are the owner."
Value of Art for Her
Bolli has learned the value of having a fulfilling profession—or, as she puts it,  the labor of love—through her work. Her line of work has given her the  freedom to push boundaries, investigate, and develop her artistic talents. She  now enjoys recognition for her distinctive work on a global scale.
According to Bolli, the people she has encountered while traveling, as well as  her experiences and commonplace happenings, have a big impact on her  paintings. Her works of art communicate her utopian vision and are intended  to provide joy and peace to the observer. She intentionally gives her  characters brilliant eyes since they are the windows to the soul. They hold up  a mirror to society when they turn to face the observer.
All About Projects
Bolli has a number of highly anticipated upcoming projects in addition to  performing with SKT. She will take part in "SKT goes to Nice," South France,  alongside us as well as being presented at the ArtExpo in New York!
When examining contemporary culture and art in general, it becomes clear  that art has served as a means of expression for a large number of people, a  tool for social activity, and, at its core, a form of solace for creators like Bollis  who have so much to offer the world. Bolli is asking more individuals to  recognize the boundless chance to push boundaries and explore novel ideas  in order to alter the world through art. After all, all art is universal. To support  this, Bollis has been educating budding artists about art and the business. She  is eager to take her art to new places in order to explore new concepts.