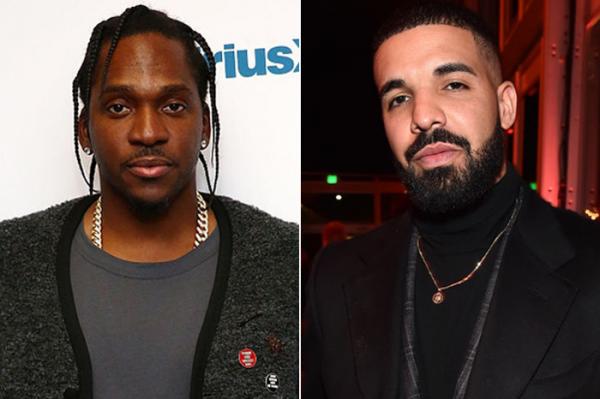 Pusha T divulged everything on Joe Budden's podcast.
Drake and Pusha-T's beef wages on. After Drake called out Kanye West for providing Pusha with the intel for his diss track "The Story of Adidon," the G.O.O.D. Music president is firing back with his own shocking revelation.
During an interview with Joe Budden's podcast on Spotify, Pusha reveals that it was through Drake's right-hand man and longtime producer Noah "40" Shebib—and not Kanye—that he was able to obtain the information. A woman 40 was sleeping with informed Pusha that 40 was "disgruntled," and disclosed personal details about Drake's son and his career.
"The information came from 40," revealed Pusha. "It didn't come from Kanye at all. 40 is sleeping with a woman who begins to—he talks to her daily, five, six hours a day, provides opportunity for, and ultimately speaks about how he's disgruntled about certain things, notoriety and things involving Drake and his career so on and so forth. With that also came the fact that Drake has a child, with that also came the trip that everybody took to go see the child and bring him gifts—all of this information. She divulged this information. That's where it came from."
He also defended Kanye, saying that he didn't get the information from him. "I never told nobody that. I never said that to anybody. And I never put that out there," said Push. "It was so much power in silence, number one, number two, I was being spiteful."
Kanye went on to apologize to Drake for "stepping on his release date," but denied giving Pusha the intel for his diss. "You [Kanye] apologizing? What are you apologizing for, sir? You didn't give me nothing," said Push. "You didn't give me anything in regards to aiding in this drama. What are you apologizing about? You shouldn't have done that."
Pusha decided to speak out following Drake's recent comments about 40 on LeBron James' HBO show "The Shop." The Canadian producer, who is battling multiple sclerosis, was one of Pusha's targets on "The Story of Adidon."
"Only reason I'm here now is because [Drake] was so passionate about the whole MS thing," said Push. "They did the backlight and they put the spotlight on his face… But your friend is the reason why. That's how it came about. That narrative needs to die. It's done."
He also called out Rap-A-Lot Records CEO J Prince, who claimed that he diffused the situation and convinced Drake not to release a response. "I let them run with all these narratives. Even the J Prince thing. I don't know J Prince. He did a whole book tour on the back of like, I squashed this. All these false narratives are fueling and covering up, we just had a battle and you came up on the short end of the stick of it.
"To me, I've been stacking up Ws for a minute in regards to this," he continued. "The shots thrown at Ye after the fact is a W for me. Going to sit with LeBron and Maverick four months later talking about this shit. That's a W for me."
He insists Drake was planning to release an adidas line named after his son Adonis. "She knew all of this. She divulged all of this information. I didn't get it from him or them."
As for 40, he says he knows what he did. "He gon' see this and know, bruh…Pillowtalkin' kills everybody. He gotta keep that lying face on, bro. He's not gonna admit to it, probably to them. He knows exactly who this is. He knows exactly what I'm talking about right now. He's going to. I couldn't live with myself without him knowing this in him. He has to live with this."
Drake vs Kanye West & Pusha T as told by Drake pic.twitter.com/MiSZxy6Fti

— Rob Lopez (@r0bato) October 13, 2018
But Drake tells a different story. During his talk with LeBron and Maverick, he claims he went to record with Kanye in Wyoming, where he played him "March 14" and showed him a photo of his "secret" son and revealed personal details about his baby mother. "I tell him I'm having trouble with my son's mother. We had a conversation," said Drake.
Soon after, Kanye announced the release dates for his album ye, as well as Pusha-T, Kids See Ghosts, Nas, and Teyana Taylor, which were all around the same time as Scorpion's June release. "This was a manipulative I wanna break you thing. So I said alright. I'm gonna go back to distancing myself again," said Drake. "Then the first album drops and of course, there's a diss song towards me [Pusha's 'Infrared]' that you produced that's talking about writing. I was just there with you as friends helping you and now you're dissing me. This is dark. It took me four days to really register what had happened."
He also says that he had a response ready, but decided against releasing it. "I did and I said terrible things. I got home and I just listened back to it and I was like, 'Man, this is not something I ever wanna be remembered for. This is not even a place that I necessarily even wanna go.'"