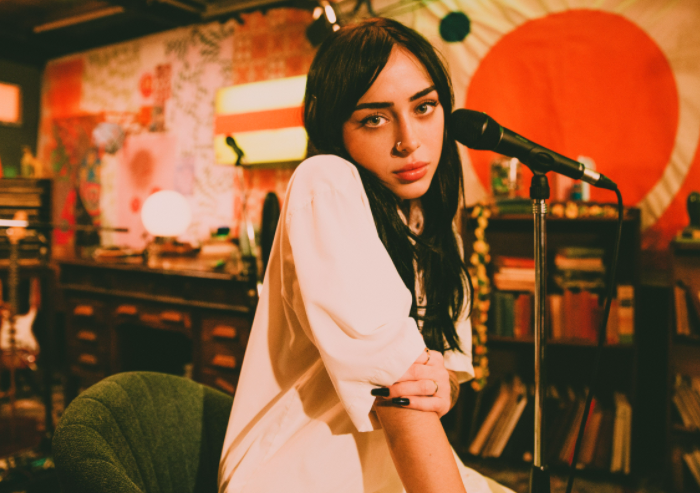 Oct 13, 2021, 19:01pm EST — 21-year-old rising Argentine star, songwriter, singer and rapper Nicki Nicole (@nicki.nicole, +10M) continues to display her genre-dexterity on her new NPR "Tiny Desk (Home) Concert" which highlights the bandoneón, an ode to Argentina's tango tradition. The live performance, filmed in Buenos Aires, showcases Nicki's versatility as she strips down her high-energy rap sound to a more intimate style, focused on her soulful vocals and the depth of her musicality. The performance includes new acoustic arrangements for her break-out hit "Colocao" as well as her first single "Wapo Trakatero." The second half of the performance reveals a string quartet performance of "Parte De Mi," the title track for Nicki's upcoming album arriving on October 28th at 6pm ET — watch here!
Nicki's "Tiny Desk" release follows her recent singles "Toa La Vida," "Baby," and "Parte De Mi" which will be featured on her new album. The "Parte De Mi" video includes home footage from Nicki's childhood as she reflects on her roots in the deeply personal song. "'Parte de Mi' is a song very special to me." Nicki shares, "I would say the most personal track I've recorded to this day. I wrote it for someone who is no longer with us, but a person who touched me deeply. This song is 'a part of me' for you all, and for you to feel it in your own way too. It is also the reason I named my next album 'Parte De Mi'."
Nicki was recently nominated for a Latin GRAMMY® with "Venganza," her collaboration with Uruguayan rockers No Te Va Gustar. She was also nominated for "Best New Artist" at last year's Latin GRAMMY awards show. Earlier this spring, Nicki performed "No Toque Mi Naik (feat. Lunay)" on the Tonight Show Starring Jimmy Fallon — watch here! . She was the first Argentine artist to perform on the acclaimed TV show. Her viral remix for Rochy RD's "Ella No Es Tuya" was featured on President Obama's "2021 Summer Playlist" and now has more than 500 million total streams.
The 21-year-old artist brings R&B and soul to Argentina's exploding urban scene and is regularly celebrated for challenging gender stereotypes along the way. She was profiled in VOGUE as well as The Guardian, which described her as "the star defying Argentinian rap's macho culture."
Connect with Nicki Nicole on social media for updates on new music, videos, and more; @nicki.nicole