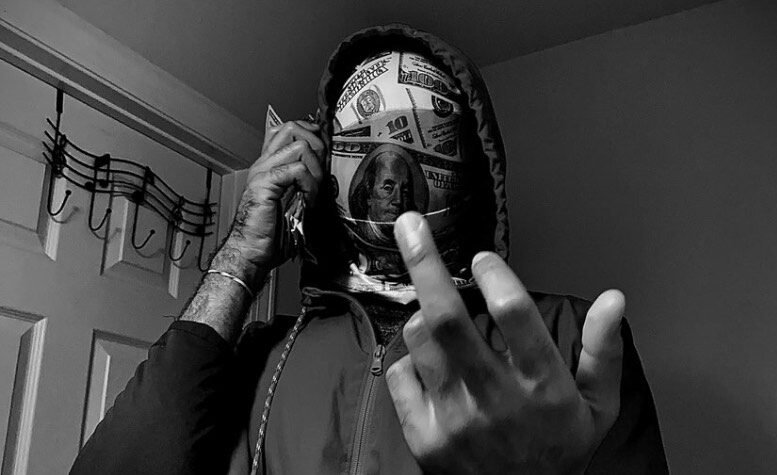 Meet Anthony Cherry, also known as A.T.G ANT, a rising star in the music industry. Born and raised in Springfield, Illinois, Anthony's love for music started at a young age. His early influences included the likes of Eminem, Ludacris, Drake, and Lil Wayne. Listening to these artists helped Anthony develop a unique style that combines aggressive flow, catchy melodies, strong delivery, and clever wordplay.
As an independent artist, Anthony has had to work hard to achieve success. He recently released his new single, "Money on my mind," which reflects his switch in mindset over the last couple of years. While making money is important, Anthony understands that it is only a surface-level understanding of success. For him, success is about much more than just making money.
Anthony's journey as an independent artist has taught him the importance of sacrifice and prioritization. He has had to learn to invest in himself, delay gratification, and focus on long-term success. "Money on my mind" is a reflection of this mindset and the hard work he has put in to achieve his goals.
With his unique style and strong work ethic, Anthony is quickly making a name for himself in the music industry. As he continues to grow as an artist, we can expect to see more great things from A.T.G ANT.
1.) Q: What is your name and what city do you rep?
My name is Anthony Cherry & I go by the stage name "A.T.G ANT". I grew up in Springfield, Illinois but have been living in Nashville,Tennessee Since 2021.
2.) Q: What's your most memorable moment of last year (2022)?
My most memorable moment of 2022 would be recording in a professional studio for the first time since I've started making music which was a great experience.
3.) Q: What's the meaning behind your latest track and its title ?
Money On My Mind is basically the mindset I've been in these last couple years. It's not so much about just making money, but putting in extra work to get better. For me I use that to invest in my music, cause of now everything at the moment is coming out of my pocket without a label funding me. The theme of the song would be making sacrifices today for a better tomorrow. I'd be lying if I didn't want to go out & party, hang out with friends,splurge on nice things and spend time with people in my life I enjoy having around but right now I'm locked in to becoming a professional musician and that means of a lot of time doing stuff you really don't want to do, but need to do so it will work.
4.) Q: Any upcoming projects? That you can speak on…
I'll continue getting at least a new single out every 2 weeks within the next few months start getting videos out & doing show as well as collaborating with other artist. Then focus on my debut tape when I figure out what I think the people need to hear from me.
5.) Q: What goals would you like to accomplish this year?
My Goals for this year would definitely be working on consistency to keep new stuff coming out that gets better each time. Self Discipline as well, even if I'm not seeing the results I want or things don't go as expected keep working,adjusting and moving forward with my plan. Plus being fearless and push myself to take more calculated risk and get out of my comfort zone even if it makes me uncomfortable at the moment & follow through on the things I'll say I'll do because I know that's what I need to do to grow and get to the next level.
6.) Q: If you could collaborate with any artist, who would that be?
If I could collaborate with any current artist as of now it would be Kodak Black,Est Gee,Ice Wear Vezzo,Money Man & NBA Youngboy I find there music relatable & motivational so it would be cool to make something together.
7.) Q: At the end of the day, all artists have something that drives them. What's your daily motivation?
My Daily Motivation is to be better then I was yesterday & continue to improve myself daily. Every day I wake up I want to give this world the best in me and make a positive impact. It's easy to get caught up in the negatives of life versus being grateful for the positives but nothing worth having comes easy,so I'd rather take the hard way cause I want my name to live forever.
8.) Q: When did you realize you were going to make music professionally?
I've always enjoyed rapping since I was about 8. I stared writing my own songs and free styling for friends around 16 & was getting positive feedback that helped give me the confidence to keep working at it. Now I'm 22 and starting to really lock in on making this my full time job & have been getting more recognition then I've gotten before so now I know this what I want to do and this is something people want me to do too.
Thank you so much for taking the time to speak with me today, A.T.G ANT. It's been a pleasure learning more about your journey as an independent artist and hearing about your hustler's mindset. Your passion for your craft and dedication to your community are truly inspiring. We wish you all the best in your future endeavors and can't wait to see what you accomplish next. Thank you again for sharing your story with us.
Instagram:
https://instagram.com/officialatgant
Money on my mind