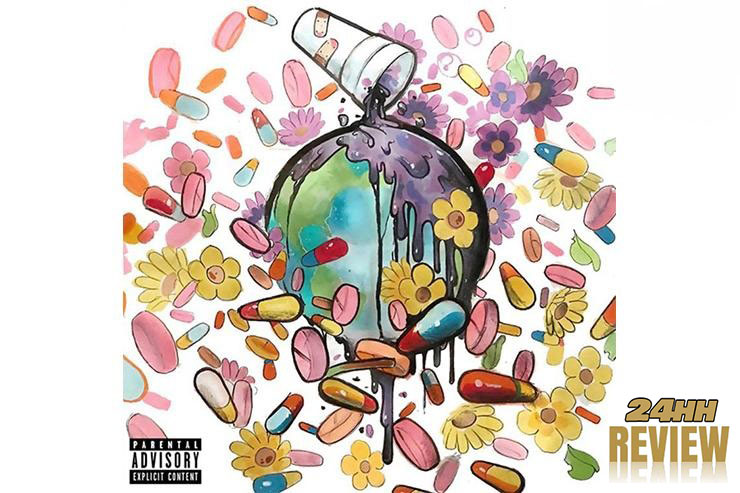 Future and Juice WRLD aren't as odd a couple as they initially seem, but "WRLD On Drugs" showcases their lopsided talents.
It's pretty jarring to hear Juice WRLD quote Future's "Ain't No Way Around It" on WRLD On Drugs and realize that he was just 12 when the True Story cut dropped. Juice and his newest collaborator, Mr. Hendrix himself, are 15 years apart in age, a full generation's worth of a gap that makes for an odd pairing. Consider this: Lil Wayne and Birdman, erstwhile Like Father Like Son partners, only have a 13-year age difference.
Styles P and Dave East, who just linked up for the joint tape Beloved, are also 13 years apart. But even beyond the numbers, consider the additional similarities: Baby and Weezy had been rapping together as Cash Money compatriots for years, East and P are New Yorkers cut from the same cloth.
Comparatively, Future and Juice WRLD have very little in common. One is a denizen of ATL's streets just as capable of gravelly gutter raps as he is of soaring pop music and weirdo vocal tics. The other is such an out-of-nowhere success that some have deemed him an "industry plant," whose harshest words are usually reserved for his exes, and who's shown very few signs of venturing outside of (almost indisputably catchy) pop-rap.
That said, most young, melodic rappers have picked up a thing or two from Future, and indeed, Juice has called him a formative influence. So what's left to bond over is Future's poppier side, as well as two favorite subjects: drugs and girls. That's a pretty flimsy foundation for 50 minutes of music, and the fact that WRLD On Drugs still manages a few bright spots of artistic chemistry is a testament to Future's versatility, Juice's melodic instincts, and most of all, a stellar executive production job from Wheezy.
Generally speaking, the album provides a decent blend of the guitar-heavy pop that Juice favors and the straightforward trap of Future's less adventurous moments. It ups Juice's rap cred while also framing Future as an elder statesman who's still hip enough to avoid any awkward "How do you do, fellow kids" faux-pas. There are times when Juice sounds right at home next to Mr. "Mask Off," dropping creative bars like "40 on me on pre-heat/Diamonds on me like RiRi," and ones where he doesn't, like when he unconvincingly tells a girl, "I can't fuck you right now, no, I gotta juug" on the opener.
It's instances like this that conjure up a "bring your kid to work day" vibe on the album's harder tracks, a lack of credibility that even a well-placed Young Scooter guest verse can't fix. This isn't surprising— the Vegas odds on Juice WRLD rapping better than Future on any given day have got to be pretty terrible— but Future also shows that despite Juice's of-the-moment success with wallowing sing-song radio hits, he's still the more emotive singer.
Consider Future's range between his sky-scraping verse on "Fine China," his ground-hugging mumbling on "Different," and his smooth balladry on "Shorty." This guy's got a Baskin Robbins roster of vocal deliveries, whereas Juice's toolbox on all of those songs hovers closer to McDonalds' number of ice cream options.
He's really fucking good at what he does— "Fine China" in particular wouldn't have the hit potential it does without his effortlessly catchy hook— but the surest way to highlight his weaknesses is pairing him off with the one artist who's done the most to break down barriers between rapping and singing, street shit and sensitivity in the last decade.
Juice WRLD's honed in on one shard of Future's stained-glass window of talents, and in some instances, perfected it. But when Future's out here going bar-for-bar with Lil Wayne and packing every ounce of his pain into singing "You been taking drugs and you been hiding it from me," that requires Juices to hit 100% on his 3-point-shot hooks to keep up, which is a nearly impossible task for anyone. Future's the complete player; Juice WRLD's the sharpshooting kid who can't play D.
WRLD On Drugs is a fun, untaxing listen that fails to coat your stomach. Fewtch and Juice have more success than expected ping-ponging their scumbag tendencies, depraved thoughts, and chemically-enhanced ennui off of each other, but they're no dynamic duo. Wheezy continues his bid for producer of the year (Young Wheezy the wave, indeed), but can't tie up all of the creative loose ends on his own.
As is usually the case with projects like this, big names are thrown in to mask its inadequacies, and while some work (Yung Bans shows the fuck up on "Different"), most don't (not even a characteristically thrilling Young Thug verse can electrify the plodding "Red Bentley," and "Transformer" joins Playboi Carti's "Poke It Out" and Lil Wayne's "Dark Side of the Moon" in the category of 2018 Tracks Ruined By Nicki Minaj).
As inspiring as it is to see Future big-up promising youngsters and Juice WRLD getting the chance to collaborate with his high school hero, they'd be better served by picking on someone their own size for their next collaborative release. Or better yet, putting the kibosh on joint projects entirely.