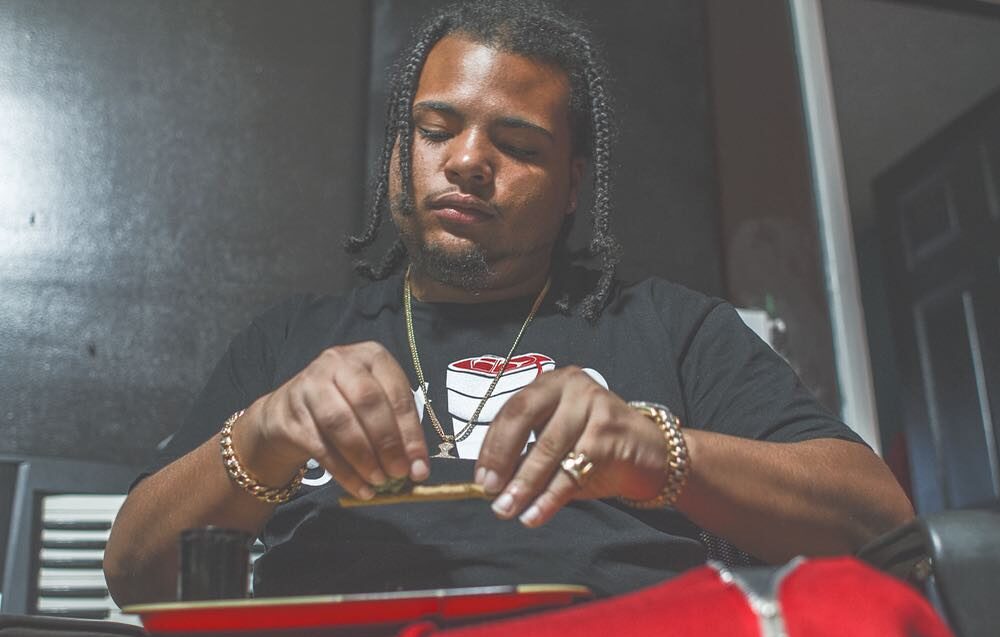 "In a candid conversation with Kirb, the rising producer and marketer behind rapper Stitches' viral hit "Brick in Yo Face," we delve into the inner workings of the music industry. Having worked with some of the biggest names in the game such as Kevin Gates, DJ Paul, Fat Trel, Lil Boosie, NBA YoungBoy, and Mistah Fab, Kirb offers a unique perspective on the making of a viral hit and the challenges that come with it. Recently splitting ways with his former business partner of Supply & Demand Productions and acquiring the entire catalog, Kirb shares his journey and the exclusive stories he has to tell. As he is a key figure in the industry, Kirb gives an insight into the creative process, the struggles and the rewards of making it in the music business. Join us as we uncover the story behind one of the biggest viral hit in recent years with the man who was there from day one."
1.) Q: What is your name and what city do you rep?
My name is Kevin Jovanni Araujo but most people know me as Kirb, owner of Luxury Living Music, & Supply & Demand Worldwide Publishing. I was born in Miami Florida but I am Cuban & Dominican. I lived in Allapattah aka Dominican town as rapper Pitbull called it till around the time I started school, then my family moved to Westchester.
2.) Q: What's your most memorable moment of last year (2022)?
One of my most memorable moments was being out of the country and seeing Comedy Central's South Park playing on tv and sure enough Stitches Brick In Yo Face starts playing. I produced the song, came up with the marketing plan, & got it placed on South Park which I grew up watching. Hearing it so far from home showed me the impact of the music we created. If I could pick two, the second would be speaking to some of the creators after having helped fix their situation. The reactions, love & respect from having helped them take care of their families is a beautiful thing.
3.) Q: What's the meaning behind your latest track and its title?
My latest track released is a beat (instrumental) titled Winning Spree I distributed. I have been on a winning spree and I believe what you say or think will manifest so I decided that was a perfect title to keep up the winning spree.
4.) Q: Any upcoming projects? That you can speak on…
Just landed a production placement with NBA Youngboy hoping it makes his next project. I plan to release an album I produced for bay area artist Lil Rue called Supply & Demand Volume 2, part 1 was with Stitches and part 3 should be Fat Trel & the Slutty Boyz. Aside from that I want to put out some of the unreleased music I have with artists like Fat Trel, Roscoe Dash, Billy Blue, Vice Versa & Jay Jones of Young Money & so many more. On the Publishing administration side, getting as many creators as possible paid for what they love doing.
5.) Q: What goals would you like to accomplish this year?
My mission is to change the lives of as many music creators as possible because too many of us know amazingly talented individuals who work a job they hate because they have to in order to make ends meet. I have already helped several creators but want to change how the entire world views music. I want to show creators you don't have to be Justin Bieber to make a great living off music. One of my goals this year is to get the publicity I need to change the narrative, change as many lives as possible, and show creators how great it can be when your business is handled correctly. Aside from that my goal is to work with artists that inspire me like Mozzy, Money Man, Dj Khaled, LaRussell, Russ…etc
6.) Q: If you could collaborate with any artist, who would that be?
On the creative side the artist I would pick is Mozzy because his music is based on real emotions and feelings, which is something I look for in music if I can't feel it's real, it's not my vibe. If I picked a producer I would say between Dj Khaled because of the masterpieces he puts together or Scott Storch because of his talent composing. On the Business side I would say someone like Tech N9ne because I have always heard of him being one of the biggest independent artists and would love to learn from him about the music business.
7.) Q: At the end of the day, all artists have something that drives them. What's your daily motivation?
As long as I can remember, my fathers always told me since he came from Cuba and I am a US citizen that anything I want in this world, and anything I want to do in this world is possible. That I have no limits because I was born in the USA. That stuck with me and I don't look at anything as if I can't, I know I can do anything I want with dedication if I want it enough and do what's necessary. My best trait is also my worst, I am never satisfied. Work is like a high to me when I am getting a placement or something great is happening, I feel great and love it. Once that moment is over I am back to working like it never happened trying to get that feeling again which keeps my drive going. It's great because most people get so satisfied they let themselves fall off celebrating too long. The negative is once that moment ends it feels like it didn't happen. The thrill is gone fast. Aside from that I now have a daughter which completely changed my outlook on life for the better. Having a family that depends on me gives me enough pressure to never quit.
8.) Q: When did you realize you were going to make music professionally?
I remember being real young and seeing Ludacris in music videos like Pimpin all over the world and thinking I wanted to be just like him. I always loved music, once I got to middle school I started writing raps as a form of therapy for myself. Eventually I collaborated with my three best friends from middle school Julio & Chipy (Rest in peace both of their souls) & Vers who later went viral for doing rap impressions of Lil Wayne & other artists on video. Having seen my friend go viral I knew anything was possible. I started producing beats and going to any local studio I could, which led to me seeing local stars or hearing they had just been there. I would say since about 9-10th grade I knew for sure I would be doing this for the rest of my life as long as I continued on the same route.
9:) Any last words for the readers?
My last words would be thank you to all the support from the readers, fans, family, anybody and everybody. For those who don't know who I am or what I do, I own a production company Supply & Demand Worldwide Publishing, & a publishing administration company Luxury Living Music. I am best known for producing and developing the marketing plan for Stitches viral hit Brick In Yo Face. I have also worked with Nba Youngboy, Kevin Gates, Mistah Fab, Lil Boosie & many more. To everyone reading don't ever stop working on your dreams and goals regardless of what you go through for your dreams. As the artist Str8 Kash once told me when I was getting treated unfairly " Kirb one day you will meet people who value what you bring to the table along with your loyalty and you will be rich forever". Any & every music creator regardless of the role deserves to be compensated, not just crumbs they deserve to be compensated fairly which is what Luxury Living Music stands for.
"We would like to thank Kirb for sharing his unique perspective on the music industry. His insights and experiences are truly valuable for both fans and aspiring music creators. We wish him all the best in his future endeavors and look forward to following his success in the industry. Thank you for your time, Kirb."
Connect w/ Kirb below.
Website: www.luxurylivingmusic.com
Instagram: LuxuryLivingKirb
Linkedin: www.linkedin.com/in/kevin-araujo-392520174