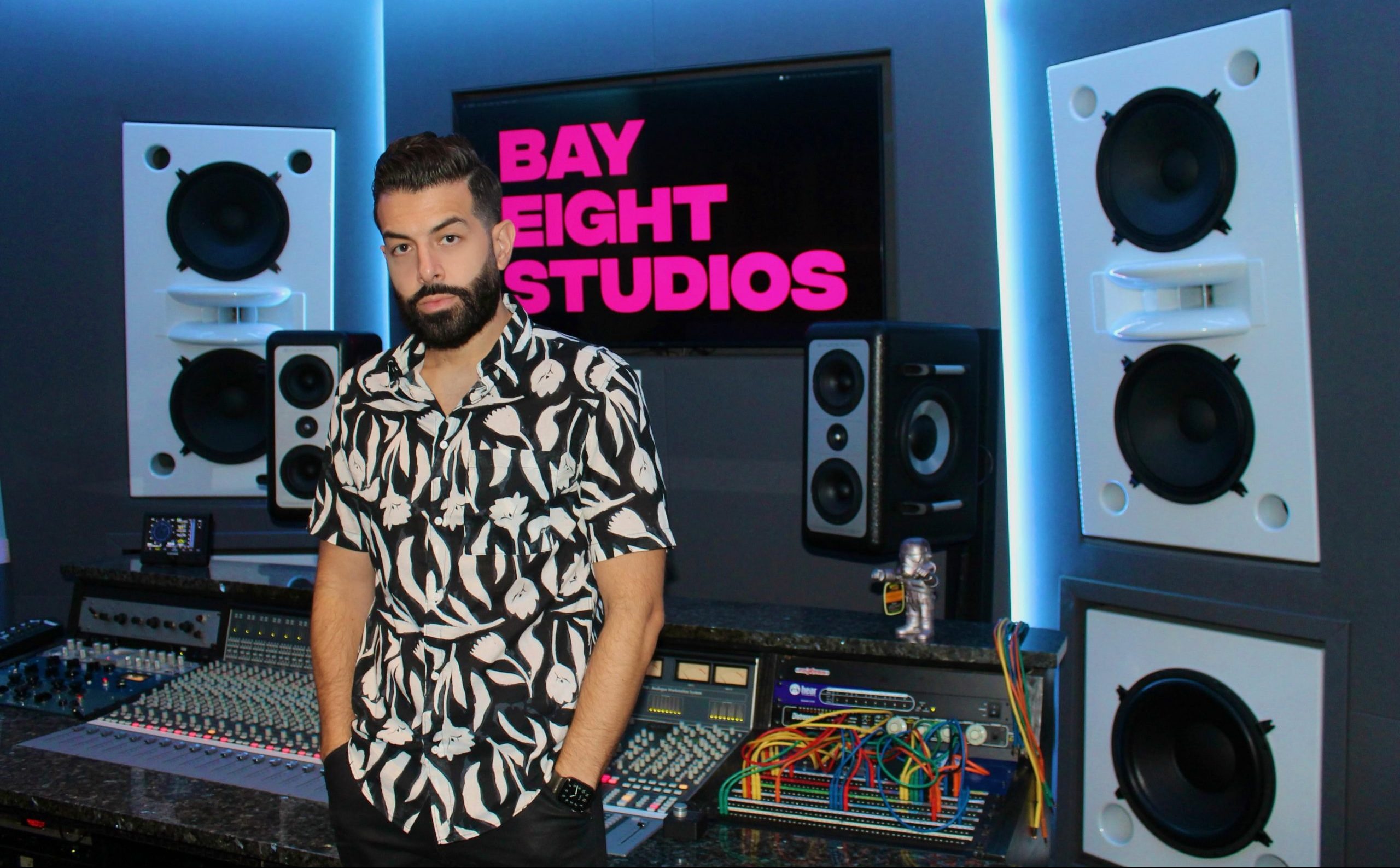 In 2004, multi-platinum audio engineer Matthew "Formatt" DeFreitas started his musical journey through an internship with Boston Skyline Studios. That same year, Formatt – a Rhode Island native – took his talents to South Beach. He worked as a freelance engineer for roughly six years until he purchased a studio facility – Midnight Blue Studios – from GRAMMY Award-winning producer Fabio "Estefano" Salgado in 2015. Upon purchasing the studio, Formatt undertook renovations, and the studio was resurrected as Bay Eight Recording Studios.
Today, Bay Eight Recording Studios has become one of the most prolific studios in Miami, Florida, which is not an easy feat. Miami is home to some of the most top-notch and well-known studios in the world. So, to stand out in the crowd is easier said than done; however, Bay Eight Recording Studios has done just that. From the high-quality equipment to the high-profile clients, such as City Girls, French Montana, Jake Paul, Dizzee Rascal, Arcángel, Meek Mill, Rich the Kid, Malu Trevejo, and Chief Keef, Bay Eight Recording Studios is in a league of its own.
The lighting and style of the studio may be similar to other studios, but the design and construction of Bay Eight Recording Studios is like no other. For instance, the studio raised the ceilings and opened the space to install Augspurger Duo 18's flush-mounted in the walls. The studio has three rooms. Each room produces a high-quality, crisp sound. The SSL Room is equipped with LED mood lighting, a SSL AWS 900 Super Analog Console, Neve 1073, API 512c, Vintage Pultec EQp1a, Vintage Pultec Meq5, TubeTech CL1B, Dual 18' Augspurger Duo with Matched subs, and Barefoot MM27 Mastering Grade monitors.
The Apollo Room is a modern vintage-designed studio that brandishes equipment such as Neve 1073, API 512c, TubeTech CL1B, Universal Audio 1176, and Duel Genelec 8361's with Sam Technology in Matte White with a matched pair of subs. The Whisper Room is unlike the other rooms, yet still packs a punch and produces pro-quality music. The studio has twenty-four-foot ceilings and a WhisperRoom iso booth. Some of the first-class equipment within the Whisper Room are an Avalon 737, 2 John Hardy M1 Preamp, Yamaha HS7's with 18" sub, and a Universal Audio Apollo 8 black 2022 Quad (fully loaded).
On top of the perfectly crafted setup and equipment, Bay Eight Recording Studios provides services in a more sophisticated manner than most studios. Bay Eight Recording Studios is meticulous in every stage of the process from booking a session to recording to mixing and mastering. Furthermore, Bay Eight Recording Studios only hires and promotes from within, so every member of the team knows the ins and outs of the process and is able to perfect the skills needed to make immaculate records for every client. Because Bay Eight Recording Studios is transparent in sessions and its staff forms strong relationships with clients, everybody is able to enjoy their time; work hard, play hard so to speak.
Formatt's Bay Eight Recording Studios is truly one of a kind. "There are many studios in Miami, but there is only one Bay Eight." To dive deeper into Bay Eight Recording Studios, go to the studio's website at https://bayeight.com/.
Follow Bay Eight:
Instagram: https://instagram.com/bayeight
Twitter: https://www.twitter.com/bayeightmia/
Facebook: https://facebook.com/bayeight